Posted on
Thu, Aug 15, 2013 : 3:16 p.m.
Firefighters battle blaze at Ann Arbor condominium complex
By John Counts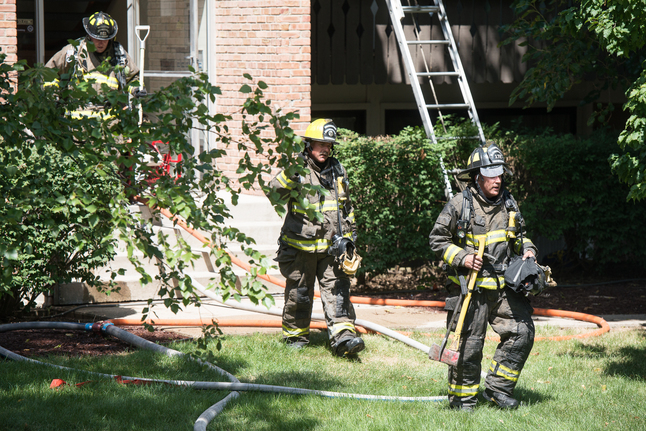 Courtney Sacco | AnnArbor.com
A fire destroyed two units and damaged several others at an Ann Arbor condominium complex Thursday afternoon, officials said.
Crews were called to the Walden Hills condominiums in the 2100 block of Pauline Boulevard around 1 p.m. for the fire.
Ann Arbor fire Battalion Chief Steve Lowe said smoke and heavy flames were coming from a third-floor unit when firefighters arrived. They knocked down the fire fairly quickly, but at 1:45 p.m. crews were still at the scene working to put out "hot spots," officials said.
Two units on the third floor were a total loss due to fire damage, Lowe said. Four units below sustained significant water damage. The six units were uninhabitable after the fire, Lowe said. The Washtenaw-Lenawee Chapter of the American Red Cross were at the scene assisting residents of approximately the six units, it said in a release.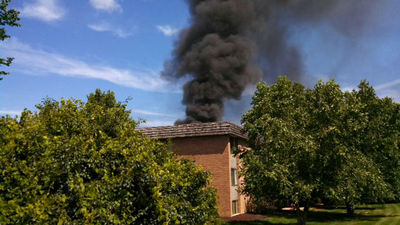 Courtesy of AAFD
While the cause of the fire is still under investigation by officials, it appears to have started while a resident was doing repairs.
Garen Hart said he was fixing a leaky pipe in the bathroom when insulation in the wall caught on fire. After calling 911, he said he ran out into the hallway, smashed the glass case containing a fire extinguisher and began spraying the flames in the walls.
The fire, however, had spread into the ceiling, so Hart said he ran outside. He suffered a minor cut on his hand from breaking the glass to get the extinguisher.
Crews from Ann Arbor, Pittsfield Township and Ypsilanti Township were at the scene.
John Counts covers cops and courts for AnnArbor.com. He can be reached at johncounts@annarbor.com or you can follow him on Twitter.