Posted on
Tue, Aug 6, 2013 : 11:10 a.m.
Firefighters rescue 2 kittens from storm drain at Lillie Park
By John Counts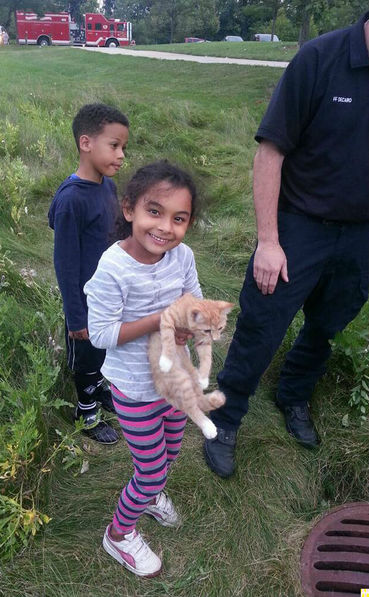 Courtesy of Suzette Collins
This story has been updated with information from eyewitness Suzette Collins.
Two furry felines made friends with firefighters who found the kitties in an unlikely place Monday afternoon — at the bottom of a storm drain in Lillie Park, located at 4365 Platt Road.
Pittsfield Township firefighters were called to the park in the evening after receiving a report of a kitty trapped in the drain, Fire Chief Sean Gleason said.
Suzette Collins, of Ann Arbor, was at the park for one sons' soccer games around 8 p.m. when her 5-year-old son Aiden Schlecht heard a crying kitty, she said.
When the 5-year-old discovered the kittens were down a storm drain, he came and got Collins. She called the humane society, which was closed at the time. So she decided to call the fire department, which showed up with fifteen minutes, she said.
The firefighters discovered not one, but two kittens had found their way down the drain. The felines were rescued.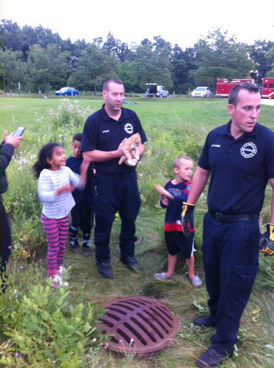 Photo courtesy of Suzette Collins
"The little kids were all around them cheering them on," Collins said.
The children were then allowed to snuggle with and pet the kittens before the firefighters took them back to the department.
The kittens were subsequently turned over to the Humane Society of Huron Valley.
Gleason said the department receives calls about trapped animals from time to time and that it always responds -- without lights and sirens, however. The calls can be a refreshing change of pace for the department.
"The guys love it," he said. "Everybody loves a little kitten."
Many of the recent calls usually involve ducklings stuck in storm drains, he added. No one was sure how the kittens got down there.
John Counts covers cops and courts for AnnArbor.com. He can be reached at johncounts@annarbor.com or you can follow him on Twitter.