Posted on
Tue, Nov 15, 2011 : 4:31 p.m.
First 'Be A Hero at the Big House' is biggest donor drive ever at U-M
By Laura Blodgett
Nicole Denton learned her daughter had hypoplastic left heart syndrome, a rare congenital heart defect, when she went in for her regular five month ultrasound during her pregnancy.
Born May 3, baby Faith and her mother have been in C.S. Mott Children's Hospital ever since, waiting for a heart transplant. There is no way of knowing how long it will be.
Organizers of the biggest donor drive ever on University of Michigan campus hope to help Faith and many other patients with their effort. "Be a Hero at the Big House" will take place Wednesday, Nov. 16, from 7 a.m. to 7 p.m. at the Michigan Stadium in Ann Arbor.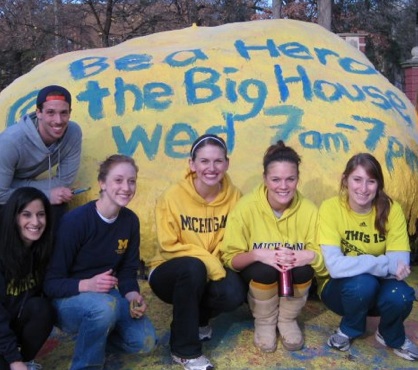 Courtesy photo
A single mom, Denton's older children Orlando, 6, and Brooke, 2, are staying with her parents in Cadillac. They drive down on weekends and holidays to visit their mother and baby sister in the hospital.
"They understand what is going on and they know she is in the hospital waiting for a heart," said Denton. "But it's hard because every time they leave they cry because they want me to go home with them."
Denton is grateful to all the people who donate blood as her daughter has had "more transfusions than she can count on both hands and feet."
When it comes to organ donation, Denton is painfully aware that it would mean a heartbreaking loss for another family.
"I'm not waiting for another child to die, but if they do, I [am grateful] to those parents who will let their child live on through mine and be willing to save lives with that. It means a lot."
Called Be a Hero at the Big House, the event is sponsored by Michigan Athletics in partnership with Wolverines for Life, a collaboration between U-M Health System and other University of Michigan groups, along with the American Red Cross, Be the Match/National Marrow Donor Program, Gift of Life Michigan and the Michigan Eye-Bank.
People can get a VIP view of the stadium from the Jack Ross Stadium Club on the 4th floor while donating blood, signing the Michigan Organ Donor Registry and getting screened for the Be the Match bone marrow registry. Parking is free inside the gate on the concourse.
"The Big House seats about 111,000 people and that is about as many people who are waiting nationwide for an organ," said Mary Masson, PR representative from U-M Health System. "Every day 19 people die across the country because they do not get one in time." U-M Health System does roughly one transplant a day.
"It just takes seconds to fill out the donor card and all you need is your driver's license," added Masson.
Those attending can help U-M with the annual fall challenges between U-M and Ohio State—the Wolverine-Buckeye Challenge and the Blood Battle. Each school tries to beat the other in collecting blood donations or organ donor sign-ups before their teams play on Nov. 26. Last year, U-M won both challenges.
Those who donate at the Big House event also will be entered into a raffle drawing for various prizes, including tickets to U-M athletic events and autographed souvenirs.
If you can't make it, you can register to give blood or be an organ donor online at www.Wolverinesforlife.org. Bone Marrow donors can register at www.BeTheMatch.org