First-grader asks for shoe donations for Kenyan orphanage for his 7th birthday
Posted on Wed, Mar 13, 2013 : 11 a.m.
Cole Treat loves spaghetti, Michigan Football, playing flag football and anything else that keeps him moving and throwing balls. That's not unusual for a 7-year-old. What distinguishes Cole, among other things, was what he chose to do for his seventh birthday in January.
The first-grader at Bryant Elementary School had seen photos from a family friend from her visit to Kenya where she was assisting in the development of an orphanage. It's called the Busia Compassionate Centre and it's being established through the World Council of Credit Unions.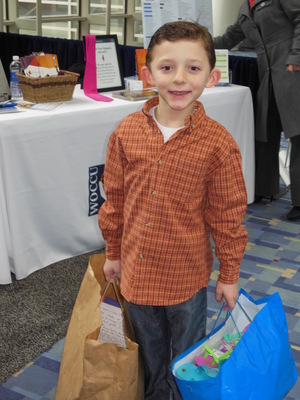 Courtesy photo
When she told Cole stories about the children's need for shoes, it had a profound effect on him.
"Much to our surprise, the week prior to Cole's birthday, he came to both his father and me on separate occasions and told us that he didn't need or want anything for his birthday, but that instead he would just like to ask for flip-flops for the children of the orphanage," said his mom Lisa Treat.
When asked why this was important to him, Cole responded, "I just want them to have a good life like me."
Family and friends rallied to Cole's cause and soon he had a collection of flip flops. When his mother had to travel to Washington, D.C. for business, she invited Cole to join her to deliver the flip flops to the World Council of Credit Unions. He was asked to attend a reception at the Embassy of the Republic of Kenya where he met H.E. (His Excellency) Ambassador Elkanah Odembo.
Courtesy photo
Cole presented the ambassador with the bags of flip flops and a letter he'd written that told a little about himself and included, "Since I am a very fortunate boy, I wanted to help you, so for my birthday I only asked my family and friends for flip-flops for you."
Cole's parents, Lisa and Robert Treat, say they were "gushing" when Cole met the ambassador, who thanked Cole and gave him a book and CD about Kenya. They say Cole responded, "Thank you, Mr. Ambassador."
"The ambassador was first surprised by Cole's heart, considering his young age," said Lisa Treat. "He was very gracious and went out of his way to acknowledge Cole's kind gesture."
Cole's parents made a point to thank Cole for "allowing them the opportunity of the experience." They describe Cole as having an old soul.
"He is a very gifted child, both through his kind soul and academically," said Lisa Treat.
She says that he always has been sensitive to those in need and includes examples like when he gave his own money to a homeless man so that he could get a hotel room to keep warm. During a previous visit to Washington, D.C. when Cole was 6 years old, he collected uneaten lunches from a conference and shared them with homeless people.
Life is back to normal for the first-grader, except that he still is thinking about those children in Kenya who need shoes and hoping that people keep donating.
Anyone interested in helping Cole's cause can contact Lisa Treat at 734-780-7042.