Posted on
Mon, Dec 26, 2011 : 5:58 a.m.
Full of light and hope: First impressions of new Mott Hospital follow family crisis
By Angela Smith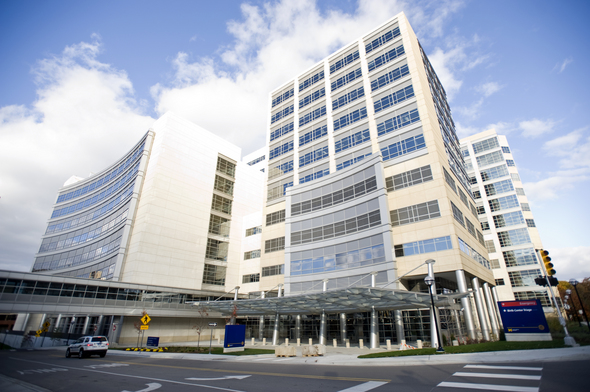 Joseph Tobianski | AnnArbor.com
Child and hospital. They're two words that no parent wants to think about putting in the same sentence.
Having a child that needs hospitalization or specialized attention is a weight that seems, at times, unbearably heavy. It's a scenario that changed this year in Ann Arbor as the University of Michigan opened its new Mott Children's Hospital .
I accompanied my friend Amy and her 4-year-old daughter, Hannah, to the new facility for a radiology appointment this month. The appointment included a test with a positive outcome, and I was happy to come along for emotional support, and I was also curious to see what the new building would be like.
I was eager to compare it to the impressions I had made during the fall, after spending countless days visiting my nephew at the old Mott Hospital.
My nephew, Dominic, was born with a serious heart defect that caused him to need open heart surgery and about two and a half months of hospitalization.
During that time our family was thrown into crisis mode, as week by week we would await test results and updates from doctors to let us know if there was hope for this baby.
During those weeks, I would go to visit him at various times of the day or night. Walking in to the hospital, I would sometimes take shaky breaths and hold back tears, or lead my daughters in to see their strong baby cousin.
I took comfort in some of the familiar sights that greeted me each time: the security guards, the Big Bird statue, and a digital clock counting down the number of days hours and seconds until the new Mott Hospital would open.
At 71 days, I thought it was a bit callous to list the countdown date. I was disinterested and hopeful that I would be far removed from this experience by the time the new hospital got close enough to seem imminent.
56 days… 48 days… by the time the clock got to 39 days I noticed that I anticipated seeing the familiar clock as I walked in, and I started to feel eager for the pending facility. The hallways and waiting rooms of the Mott corridors were dreary at best, and the ambiance seemed to affect my mood.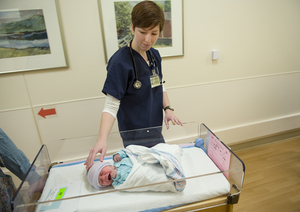 Photo courtesy of University of Michigan Health System
Many families of patients in the Pediatric Thoracic Care Unit area spent day after day in the two small family waiting areas. They weren't really waiting areas, but temporary co-living areas. Many of these families came from far off homes to hear what the specialists at Mott could do for their child. They ate at the hospital, distracted themselves with seemingly round the clock episodes of "America's Funniest Home Videos" (probably the only show that could still bring an occasional shared smile), and slept at the hospital. Families were given access to a locker for their items, and sofas and chairs and that reclined into cots where they could co-sleep in a room that was only a security door away from the pod where their children were sleeping.
I apologize if it sounds bleak, but it truly was.
Some days felt like only a flicker of hope, but eventually it became a glimmer and continued to grow. Baby Dominic was slowly beginning to thrive, and at the end of October he was sent home to his big welcoming family.
One week later I attended the public open house for the new Mott Hospital. While there I was struck not only by the crowds of people who came out to support and see the new facility, but also by the words of a father whose three children came to take part in the festivities of the day.
"That's Emily", he said pointing to his 6-year-old, "she's a Holden (NICU) grad."
And there was one other aspect of the 1.1 million square foot facility that struck me. Light. On almost every corridor, in the waiting areas, even from the street outside the windowed building, you will notice bright colorful shining light.
"The lights look so pretty," Hannah remarked when we walked onto the 5th floor at the new Mott for her recent test.
But for many families and patients at the new hospital, I think the lighting will represent more than just beauty. Light, especially at this season of the year, is a sign of hope. It helps to deliver an experience that is not heavy, but well, light, which can mean gentle… graceful… carefree… manageable.
Doctors anticipate that my nephew Dominic will be back sometime in 2012 for another open heart procedure, in one of Mott's 16 new full-featured operating rooms.
He will not be one of the first patients to experience the amenities of the 1.1 million square foot hospital. But I think our family and many others that come before and after him will find comfort not only in the skilled Michigan doctors, but in the facility itself. And there is nothing bleak about that.
Angela Smith is a freelance writer for AnnArbor.com. Contact her at angieannarbor@gmail.com