Posted on
Wed, Jun 26, 2013 : 5:59 a.m.
Liberty Plaza landscaping gets $5K spruce-up to address visibility issues
By Kyle Feldscher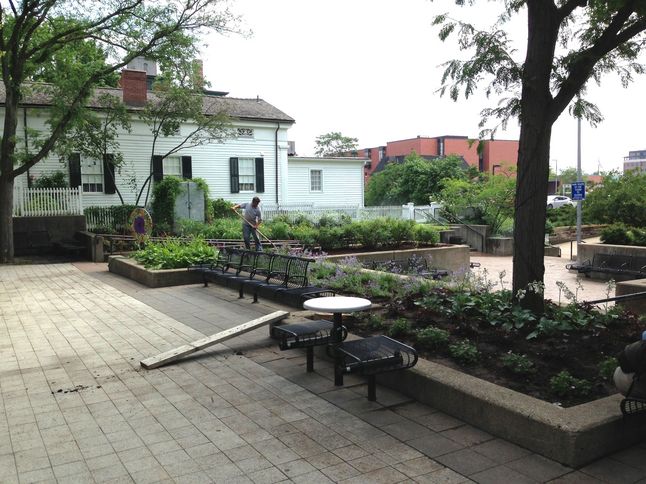 Kyle Feldscher | AnnArbor.com
After tearing out the yews that blocked visibility into downtown Ann Arbor's Liberty Plaza, First Martin officials are hoping the new flowers and plants will open up the bi-level park.
First Martin property manager John Teeter said the work done Monday and Tuesday would hopefully help cut into some of the alcohol use and trash issues at Liberty Plaza.
"We're trying to brighten up the planting beds and increase visibility into the interior of the park," Teeter said Tuesday afternoon. "Those beds had yews, evergreen plants that had been there for a long time. Those yews didn't allow a lot of visibility into the park and were a collection point for liquor bottles and trash we didn't want there."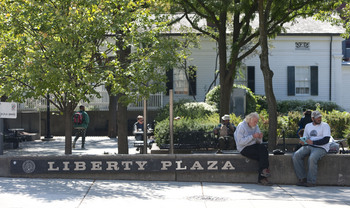 Courtney Sacco | AnnArbor.com
The sunken plaza at the corner of East Liberty and South Division streets has long been a hotly debated place in Ann Arbor. Since it opened to the public in 1978, the two-tiered park has gone through many cycles of crime and peace.
It's a gathering place for many people eat lunch and play cards or dominoes on summer days when the weather allows and usually hosts the Bank of Ann Arbor's Sonic Lunch program on Thursday afternoons.
However, it also has a more unsavory crowd, and has gained a reputation as a hub of public drinking, drug dealing and usage and hostile vagrants. Last year, officials said preliminary redesigns of Liberty Plaza were being discussed in an effort to make the park a welcoming place for more Ann Arborites.
Teeter said the city of Ann Arbor worked with volunteers from Ann Arbor's Blooms Day to tear out the yews and then First Martin planted shorter plants and flowers at its own expense. The work began on Monday and wrapped up Tuesday, as crews were moving mulch into the freshly planted beds.
The work cost the company more than $5,000 and did not cost the city any money, Teeter said.
"Hopefully, it brightens it up," he said.
There have not been many issues at Liberty Plaza so far in 2013, according to police.
As of June 13, Ann Arbor police Lt. Renee Bush said there were three calls for service to Liberty Plaza. In February, police assisted with a medical call, in March there was a report of a suspicious person and in April there was a vagrancy report.
In 2012, police increased foot patrols in Liberty Plaza and downtown Ann Arbor after identifying it as a place that needed more attention. At the time, Teeter told AnnArbor.com a bigger police presence "would resolve the issue" with crime at the park.
Kyle Feldscher covers cops and courts for AnnArbor.com. He can be reached at kylefeldscher@annarbor.com or you can follow him on Twitter.