Posted on
Thu, Mar 28, 2013 : 5:59 a.m.
First on the scene of a serious crash? Here's what you should do
By Rich Kinsey
In the beginning, things are chaotic at the scene of a serious crash. There will be injuries, there may be blood and there will be danger. What should you do if you are the first one on the scene?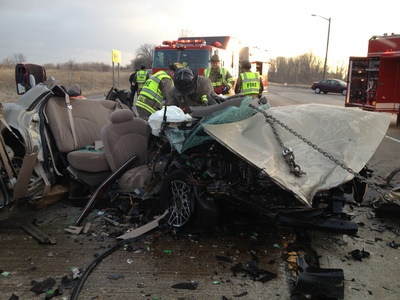 Courtesy of Pittsfield Township Department of Public Safety
First and foremost you have to think of your own safety. Park your car well off the roadway. That is very obvious, but it is really important for your safety.
You must park far enough away to give other drivers time to react before getting to the crash. Always turn on your emergency flashers. You must also be far enough away that if there is an explosion you and your car will not be involved.
Once safely parked, take a few moments to gather yourself. If you have witnessed a serious crash, your body will be dealing with an adrenaline dump. I have witnessed two very serious crashes, and I can tell you from experience that when you actually see a bad crash your heart rate immediately doubles.
While walking a beat, I witnessed an elderly man get hit by a van when he was crossing the street at Main and Liberty. I had to take a deep breath or two before I broadcast on the police radio so I did not sound like a Munchkin on helium.
Taking those few extra moments, to collect yourself, before acting will make you much more effective. If you have a cellphone, call 911. Tell the dispatcher where you are and what you can see.
The dispatcher will ask a number of questions starting with, "Is anyone injured?" At this point you hopefully have not even been out of your car—remember you are safest in your car, on the shoulder of the road with your seatbelt on and your head against the headrest. Observe and report what you can see.
The key is getting emergency responders heading to the scene. If you do not know if there are injuries, say so, but tell the dispatcher how serious the crash looks. When in doubt, assume there are injuries.
If you later find there are no injuries — that's fine — call 911 and give them an update. Emergency vehicles can always slow their response and shut down their emergency equipment in route, but the key is to get professional help there as soon as possible.
Once you have reported, it is time to take another deep breath and get determined. Look around see what kind of secondary threats there are. Are you off the road far enough and have you left room for emergency vehicles to respond? Is there a fire? Are there electrical wires down in the area? What is oncoming traffic doing—check your mirror before you open your door.
Remember, your job is to hold down the scene until the professionals get there. If it is safe, make your approach, but keep looking for things that are immediately life threatening — like fire or ruptured fuel tanks.
Next look for injured victims and know your own first aid capabilities. Do not attempt any first aid or medical procedures beyond your training. If you have not had a first aid or CPR class, you can at least check on the victims and let them know that help is on the way.
In the calmest, lowest, slowest voice you can muster, talk to the victim and tell them not to move. Tell them, "Help is on the way, you are going to be all right. Stay still, do not move, help is coming." I suggest you even verbalize this to unconscious victims; it cannot hurt and you never know what victims are processing. Scared, injured, terrified victims are comforted just knowing they are not alone and help is on the way.
Do not try to move any crash victims unless there is a greater life-threatening hazard, like fire, that necessitates you moving that person.
You may be seeing some terrible things, but it is critical that you do not react emotionally to what you see. If you are calm, conscious victims will naturally calm. If you are terrified and repulsed and show it, you could potentially put a person into shock.
Screaming victims are reacting to pain and terror. That is not always a terrible thing. It means they are conscious and probably reacting to pain, which means there may be little neurological damage. Time to talk to them, keep them still and give them a "job."
Calm the person by asking if there is anyone else in the vehicle. If not, start asking them their name and tell them you can see they are injured but they must remain still. I have found that people who are yelling react better to requests for information and calm talk then from yelling at them, "CALM DOWN!"
Walking wounded, drunks and drugged people also will be a problem. Get them somewhere safe, get them to sit down and tell them not to move. Remember some head injuries will cause a person to walk around in a daze and they can easily walk out into traffic — so get these people down, safe and still.
After you have surveyed the scene for injured persons and emergency personnel are not yet on the scene, it would be a good time to fire up the cellphone and call 911 again. Update the dispatcher, so they can update rescuers and get more assets headed to the scene if necessary.
If the crash is not serious, try to get the vehicles moved off the roadway. You can tell the drivers to get their licenses, registrations and proof of insurance handy for the police who are on their way. If one of the drivers reacts by driving away, try to get a plate number vehicle and description, and then give that information to the police.
Finally, after you have given your information to the police and have been released from the scene, take care of yourself. If the crash was serious, you have been involved in a traumatic event yourself.
Realize that you have done an honorable thing. Give yourself a pat on the back — preferably not while you are driving — and then take care of yourself. Rest, relax, eat, hydrate and avoid alcohol.
Everyone reacts differently to trauma, but if you are having trouble sleeping, eating or thinking about this incident this is not uncommon. If the effects persist you might consider speaking to a crisis counselor. Even cops, firefighters and paramedics have to do this from time to time.
Lock it up, don't leave it unattended, be aware and watch out for your neighbors.
Rich Kinsey is a retired Ann Arbor police detective sergeant who now blogs about crime and safety for AnnArbor.com.