Posted on
Wed, Mar 31, 2010 : 11:30 a.m.
First Republican contender for Ann Arbor City Council emerges
By Ryan J. Stanton
It might get crowded this year in the race for the 5th Ward seat on the Ann Arbor City Council.
John Floyd, a Republican contender, pulled nominating petitions this morning to seek the seat currently held by Council Member Carsten Hohnke, a Democrat.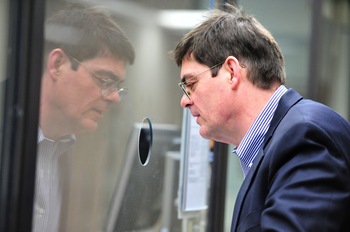 Ryan J. Stanton | AnnArbor.com
Hohnke beat Floyd in the 2008 November general election when the two political newcomers were facing off for a seat being vacated by then Council Member Chris Easthope.
If Carsten Hohnke can make it out of the Democratic primary in August, he'll likely face John Floyd again in November.
"I'm looking forward to the race," Floyd said. "I'm looking forward especially to having issues discussed. The most important thing out of any race is making sure all the issues of the day are discussed with some specificity, so people actually have a choice."
Hohnke most likely will be challenged first by Lou Glorie, a Democrat and local real estate agent, in the August primary. Glorie pulled petitions recently but has not yet officially filed.
Hohnke's seat also is being eyed by another challenger, Allen Licari, who recently pulled both Democratic and independent nominating petitions. Licari can file only one set of petitions, so he'll have to decide on party affiliation before he officially files.
The filing deadline is 4 p.m. May 11.
A Huron High School graduate, Floyd has degrees in economics, public policy and accounting and finance from Oberlin College, the University of Michigan and DePaul University.
He has worked as a budget analyst for the state of Illinois and as a financial control professional for nonprofit and business organizations. For about the last decade, he has worked closely with auto supply companies around Southeast Michigan.
Fiscal responsibility is a key focus of his platform, and he says the city needs to focus on five points.
"I think for the city to grow, we need to keep focused on providing the essentials of government," he said. "Sort of like a football team, you have to do the basics well to be a winning team, and to me the basics are providing police, fire, water, sanitation and streets and providing those fully funded and very well. There are other things we like government to do, but I think if you can't do the basics well, you need to return your focus to those."
Floyd, 52, says he doesn't believe a city income tax is the right approach to balance the city's budget. But he thinks the University of Michigan "needs to start thinking about doing the right thing and considering holding the city mostly harmless for its purchase of the Pfizer campus."
Floyd said he returned to Ann Arbor in the mid-1990s after a 15-year hiatus that had him living in the Chicago area. He said the guiding principles for new development should be focused around keeping Ann Arbor a place where families want to live.
Ryan J. Stanton covers government for AnnArbor.com. Reach him at ryanstanton@annarbor.com or 734-623-2529.