Posted on
Tue, Aug 7, 2012 : 5:58 a.m.
First responders: Many motorists fail to follow rules of the road when emergency vehicles approach
By John Counts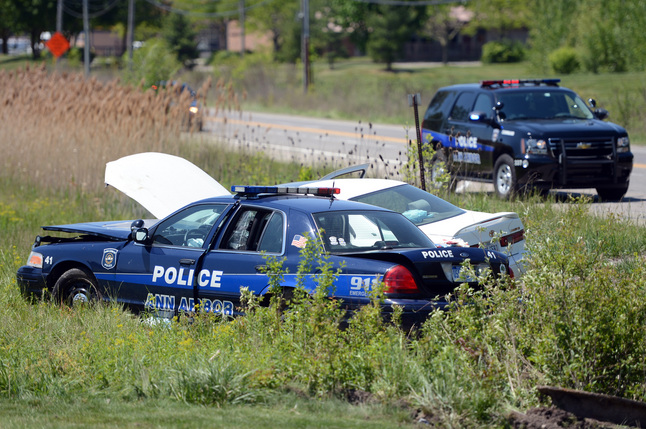 Melanie Maxwell | AnnArbor.com
The blaring of sirens and the flashing of lights are two indicators to anyone who has ever driven a car that an emergency vehicle - be it a police car, firetruck or ambulance - is approaching.
In driver's education class, people learn the appropriate response: Pull over to the right as much as possible and let the emergency vehicle pass. After all, it's en route to what could be a life-or-death situation.
More specifically, state law says that if an emergency vehicle with lights flashing and sirens blaring is within 500 feet, "The driver of another vehicle shall yield the right of way and shall immediately drive to a position parallel to and as close as possible to the right-hand edge or curb of the roadway, clear of an intersection, and shall stop and remain in that position until the authorized emergency vehicle has passed, except when otherwise directed by a police officer."
But many drivers aren't obeying this fundamental rule of the road.
In May, two officers from the Ann Arbor Police Department were injured in an accident while responding to a shooting at North Maple Estates. The officers were westbound on Ellsworth Road near State Street when an Ohio woman in the same lane attempted to make a left turn into a car wash, directly in the path of the police car, which had its lights and sirens activated.
Both officers were taken to the hospital with minor injuries afterward. Lt. Renee Bush of the AAPD said the officers are doing fine and back on duty. There wasn't any new information to release about the Ohio woman, she added.
Why do these types of incidents occur? The consensus of the public and the agencies who respond to emergencies seems to be that some drivers are just too distracted to follow the law.
"There's a lot of strange, erratic behavior" on the road, said Huron Valley Ambulance spokeswoman Joyce Williams. "It's definitely a source of frustration,"
HVA paramedics say they wish there was some sort of nationwide educational program to teach - or reteach - drivers how to behave when there is an emergency vehicle approaching.
The failure to yield to police cars isn't always intentional, though, said Sgt. Geoff Fox of the Washtenaw County Sheriff's Office.
"I don't think they do it on purpose," he said. "They just don't see the lights, don't hear the sirens."
Drivers are listening to the radio, eating, putting on makeup and, of course, talking on cellphones - the most notorious of driver distractions these days.
"People are doing a lot of other things in their cars," Williams said. "Turn down the radio and start looking around."
Sue Eckstein has noticed people not paying attention to emergency vehicles during her daily commute from her Ypsilanti Township home to the Ann Arbor bank where she works. Her route generally includes Washtenaw Avenue and Packard Road.
"I think people are too distracted when they drive," she said. "People aren't paying attention and not always regarding the sirens and lights. It's bad enough to be in a situation where you have someone who is critically ill or injured, but then to have to deal with people who are totally oblivious to the rest of the world (makes it worse)."
The reality is the responders, who receive special driving instruction and take classes in how to navigate the roadways on emergency runs, are prepared for the poor driving habits of the public.
"Most first responders are so used to it; it just becomes part of your emergency tactical driving," Fox said.
The sheer size of their trucks adds another dimension to the challenges firefighting agencies face on the road.
"Our vehicles are big and cannot maneuver very well," said Ypsilanti Fire Chief Jon Ichesco. "We really need room to turn. We don't stop that well."
Ichesco said part of the problem is sirens have become more commonplace. A few decades ago, people took notice when they heard the blare of a firetruck coming, he explained. Now, the frequency of sirens is so great, the sound can seem like just background noise to drivers.
"They're just not aware," he said. "It's just part of the day."
Ichesco recalled a vehicle that crashed into an Ypsilanti firetruck near the intersection of West Michigan Avenue and Hamilton Street recently. The driver's car suffered extensive front-end damage. The more stalwart firetruck wasn't damaged, but the accident took the truck and firefighters out of action at a time when they could have been helping people, he said.
Pittsfield Township Fire Chief Sean Gleason said he was nearly in an accident at the intersection of West Michigan Avenue and Platt Road while responding to a fire recently. Gleason was in the department's SUV - with lights and sirens going - attempting to get through the intersection. A vehicle that was stopped behind a line of other cars pulled out and tried driving through at the same time.
"This car decided to go around," Gleason said. "It was very close to an accident."
While the car narrowly missed Gleason and he got to his destination, he's surprised there aren't more accidents. He blames the fact that cars are more soundproof now and people just don't notice the trucks despite their 100-watt speakers and LED lights, which are brighter than ever.
In most cases, people are not ticketed, Fox said. Police responding to an incident usually don't have the time to stop and ticket a motorist.
"You'd have to be doing something pretty egregious," he said.
Some people are doing more than failing to yield, however. Williams said a disturbing trend involves drivers trying to take advantage of the path cleared by emergency vehicles.
"They'll speed up in front of the ambulance or get behind it to go faster," Williams said.
Canton resident Stan Walewski III said he's witnessed behavior like this.
"People just keep going," he said. "Somebody could be in one of those ambulances and it could be a life-threatening situation. You just don't know."
Vincent Bonnici drives Michigan Avenue from his home in Dearborn to work in Ann Arbor every day. He said he pulls over and stops as soon as he sees an emergency vehicle. Bonnici had a message for drivers who don't:
"They need to go to driving school," he said.
John Counts covers cops and courts for AnnArbor.com. He can be reached at johncounts@annarbor.com or you can follow him on Twitter.