Posted on
Sun, Jan 31, 2010 : 10 a.m.
Five-alarm fire guts Ypsilanti office building
By David Jesse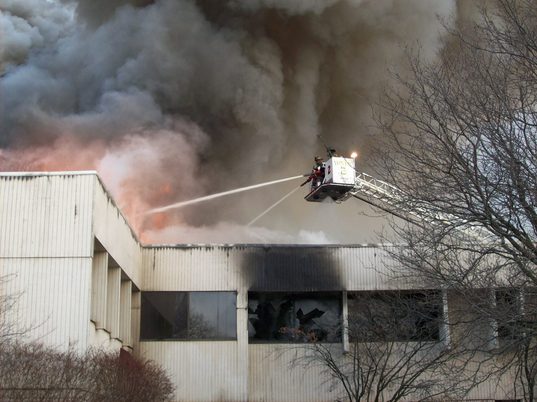 Photo courtesy of Ron Eddington, Ypsilanti Township Fire Department
Update: Fire investigators begin searching for cause of blaze that destroyed Ypsilanti office building
Firefighters from five departments are on the scene of a large blaze in an office building on Ecorse Road in Ypsilanti.
Ypsilanti Fire Capt. Dan Cain said firefighters were called to the building, on Ecorse Road near Maplewood Drive, at about 7:15 a.m. When they arrived, they saw heavy flames on the first floor, and flames were soon shooting from the second-floor windows, Cain said.
The building has offices for attorneys, a consulting service, physicians, home health care, tax service and a few unoccupied suites. Cain said it's too early to know the cause, but the fire appears to have started in an occupied suite.
Firefighters entered the building to search for occupants and begin fighting the fire, but they pulled out when the roof and floors started collapsing, Cain said. Cain said they experienced a "little water pressure problem" at the beginning, but that had been solved.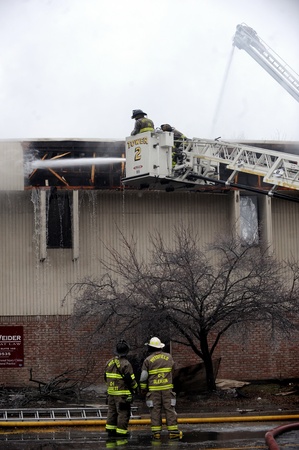 Melanie Maxwell | AnnArbor.com
Ypsilanti's five firefighters on duty were joined by firefighters from Ann Arbor, Ypsilanti Township, Pittsfield Township, and Superior Township. Firefighters used aerial trucks to pour water onto the blaze from above.
No one was injured, although the pooling water on the ground is freezing, causing a hazardous situation for firefighters, Cain said.
Clyde Montgomery, who owns two businesses in the building, drove to the scene this morning. He operated Rapture Enterprises, a non-emergency medial transport business, and First Security Mortgage.
Montgomery said he was called to move the seven vehicles he has parked in the lot for the medical transport business. The vehicles weren't damaged, but he lost the contents of the offices - including medical records and computers - and didn't have insurance.
"You just never think this is going to happen," said Montgomery, who had been in the building for three years and has eight employees. "Our whole business is gone."
Ecorse Road is currently closed in both directions, and heavy smoke is visible throughout the area.