MLive.com:

5 questions raised by new pension laws set to be signed by Governor Snyder on Tuesday

Posted on Tue, Sep 4, 2012 : 7:04 a.m.
While new legislation regarding school employee pension reform is set to be signed into law by Gov. Rick Snyder on Tuesday, MLive's Dave Murray reports that the new rules raise some interesting questions.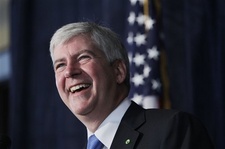 Murray writes that the new plan gives employees some expanded options for their retirement savings, a doubling of health insurance premiums for retired school teachers, and would eliminate health care coverage in retirement for workers hired after July 1.
According to Murray, ongoing court cases could be affected by the new laws, including a case decided by an appeals court that threw into jeopardy the fate of $508 million collected from teachers. That money is currently sitting in escrow, and the governor wants it to be returned to the employees.
Click here to Read the full article on MLive.com