Posted on
Thu, Jul 22, 2010 : 8:07 a.m.
5 things students should know about new federal regulations on the textbook industry
By Juliana Keeping
This story has been changed to reflect the fact textbooks can still be bundled with other products, but publishers must offer these items for sale separately as well.
Bookstores that charge big bucks for a college textbook shrink-wrapped with a CD and workbook could be violating federal law starting this month. Under new provisions, publishers are now required to provide those items for sale separately, too.
Students should notice these and other changes regarding textbooks starting this month under provisions of the Higher Education Opportunity Act of 2008.
At a press conference Wednesday, U.S. Sen. Dick Durbin of Illinois answered a few questions about the textbook measure he authored.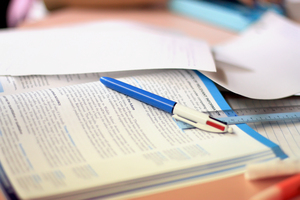 Below, find out five things you should know about the provisions.

1. No more exclusive textbook bundles are allowed
"One of the main drivers of textbook costs are the unnecessary extras," Durbin said, like CDs and workbooks. Professors often don't realize students have to purchase the extras, and they rarely use them, he said. "The fact is these drive up costs." Publishers can still bundle items, but have to offer them for sale separately, too.
2. More information will be provided to professors
Publishers now have to give professors the following information: pricing information for texts they choose and prices and information on any other available formats; the last three copyright dates for previous editions; and a summary of exactly how one edition differs from the next.
In the past, some professors have been unaware of what they're asking students to buy, according to Nicole Allen, a textbook advocate for student-activism group The Student PIRGS. The group has been running a national campaign to make textbooks more affordable.
3. More advance notice will be given for course materials, pricing
Under the new provisions, students should be notified while they register for courses of what books they need and how much those books cost. This should give students more time to shop around from multiple sources, which should lead to savings, Durbin said. And students can choose courses based to some extent on the price of associated course materials.
4. Enforcement of the new federal law is vague
When asked about enforcement, Durbin was vague, calling on students and university communities to look out for and report violations of the provisions. If they find any, "Call your senator and tell them about it," he said.
5. The federal government is involved to help drive down costs
"The cost of a college education is of concern not only to students and families, but to our nation," Durbin said. "If there is a way to find an approach that's more economical, it means less cost to government and ultimately less student debt."
Students, how much do you spend on books and course material each semester, and how do you pay for it? Professors, will the provisions change the way you choose course materials? Is your college, university or local book store complying with the new law? Respond in the comments section below or e-mail julianakeeping@annarbor.com.
Juliana Keeping is a higher education reporter for AnnArbor.com. Reach her at julianakeeping@annarbor.com or 734-623-2528. Follow Juliana Keeping on Twitter