Posted on
Thu, Mar 15, 2012 : 11:09 p.m.
Firefighters injured, apartments evacuated as storm blows through Ann Arbor
By Cindy Heflin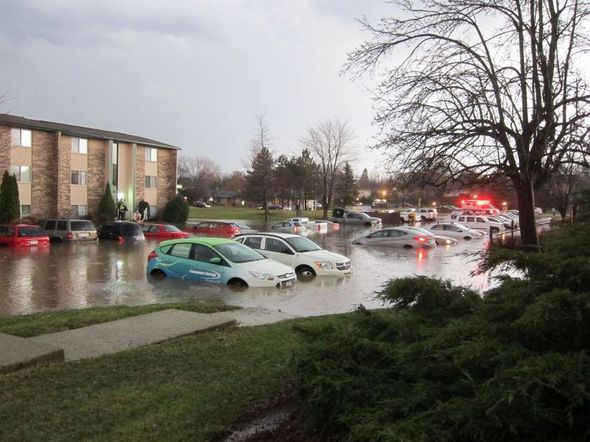 Photo courtesy of Ainsley Schlinghoff
Flooding forced the evacuation of an apartment complex along Pauline Boulevard, and several people had to be rescued from cars as streets flooded with up to 4 feet of water in the aftermath of heavy thunderstorms that swept through Ann Arbor on Thursday.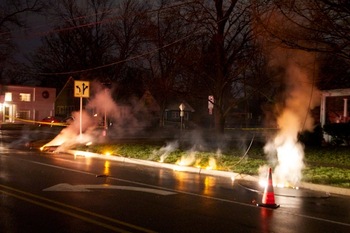 Hassan Hodges | AnnArbor.com
Two firefighters also suffered electrical injuries fighting a fire that started when an electrical wire fell onto a garage.
The storm was part of a large system that produced a tornado, which touched down in the Dexter area, causing heavy damage.
People evacuated from the apartment complex were being housed at a shelter set up by the Washtenaw County Red Cross and the Salvation Army, said Jenni Hawes, public affairs coordinator with the Washtenaw-Lenawee Chapter of the American Red Cross.
Firefighters had responded to several calls for rescues from cars around the city as streets flooded after the storm, Battalion Chief Robert Vogel said. He didn't have an exact number. "A bunch," he said.
Most calls for assistance were on Potter, Snyder, Main and Seventh streets, he said. He said the cars stalled on flooded streets and then began filling with water. He estimated water was about 4 feet deep.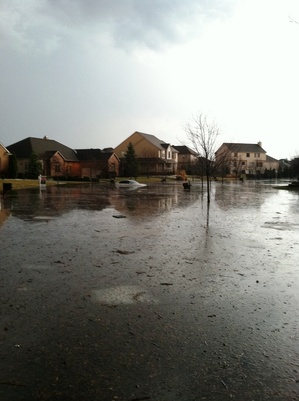 Courtesy of Meghan P. Armstrong
The fire started about 6 p.m. when high winds brought down a power line onto the metal roof of the garage, Vogel said. The blaze was small when firefighters arrived but quickly grew. Eventually the power went out, and firefighters moved in to fight it, but the building had become charged, Vogel said, and two men suffered electrical shock.
Both men were taken to the University of Michigan Hospital with non-life threatening injuries, Vogel said.
Firefighters were able to control the fire but the building was destroyed, Vogel said. No damage estimate was immediately available.
Firefighters were on the scene for about two hours, Vogel said. A few other wires had also come down around the city, he said.
Hawes said anyone affected by the flooding may come to the shelter at 100 Arbana Drive. The Red Cross is also operating a shelter at Mill Creek Middle School, 7305 Dexter Ann Arbor Road, for victims of the tornado that touched down in the Dexter area.
The Red Cross is providing food, water and health and mental health services at the shelter, Hawes said. Anyone who needs assistance can call the Red Cross at 734-971-5300.