Posted on
Mon, Dec 10, 2012 : 5:59 a.m.
Flu season: Activity beginning to increase; peak may be earlier than usual
By Amy Biolchini
Though reports of flu cases surfaced earlier than usual this year, the illness has been kept at bay until this week, according to health officials.
Both the Michigan Department of Community Health and Washtenaw County Public Health affirmed the incidence of flu cases are beginning to increase this week.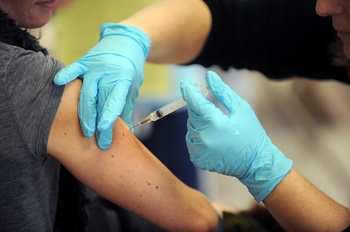 Lon Horwedel | AnnArbor.com
Typically the peak of flu season is January and February, said
Susan Ringler-Cerniglia
, public information officer for Washtenaw County Public Health.
Because flu season began earlier this year in September, Ringler-Cerniglia said the peak of flu season also may be earlier than normal.
Michigan hasn't seen flu cases at the high levels that five southern states reported in the last week of November. As of Tuesday, 26 confirmed cases of the flu have been reported in Michigan.
About one-third of Americans are vaccinated against the flu, the Associated Press reported.
The Centers for Disease Control and Prevention has stated this year's flu vaccine will be a good match for the strains of flu that have been reported thus far, Ringler-Cerniglia said.
The vaccine contains two strains of influenza Type A virus, including H1N1, which caused pandemic flu in 2009, and one strain of influenza Type B. The CDC reformulates the vaccine each year, and attempts to predict which strains will be dominant.
Ringler-Cerniglia said that both A and B strains of the flu have been identified locally, but it's unclear which will predominate the area.
"We have no supply issues this year for the vaccine," Ringler-Cerniglia said of the health department.
However, as pharmacies and chain grocery stores increasingly have been providing flu shots to customers, Ringler-Cerniglia said the demand for flu shots from the public health department has decreased.
Last year was a mild flu season in Washtenaw County.
The Michigan Visiting Care Nurses program has administered 16,000 flu shots at 315 clinics so far this year in Washtenaw County and across Michigan. The program has two more non-public flu shot events scheduled and is almost out of its supply of vaccine.
In 2005, Michigan Visiting Care Nurses administered about 21,000 to 22,000 flu shots, said Tracy Newhouse, program manager.
"Every year, it's gone down because more and more pharmacies are providing the vaccine," Newhouse said. "It reduces my business, but is good from a public health standpoint."
The Michigan Visiting Care Nurses program is a department in the University of Michigan Health System and provides flu shot clinics for the public, at senior centers and at corporate sites.
As soon as the organization received their shipment of vaccine in September, they began administering shots at flu clinics a month earlier than normal.
"The CDC now recommends providers begin immunizing as soon as they receive a supply of flu vaccine," Newhouse said. "The vaccine has been shipped out earlier in the past three years than before and it causes providers to start vaccinating earlier."
Newhouse said the earlier wave of flu clinics the program conducted this year likely will stick. Previously, the program would provide shots at clinics from October to December.
"It's kind of good that people have gotten vaccinated early," Newhouse said, stating she doesn't think this year's flu season pattern in Michigan has any correlation with flu shot clinics starting earlier.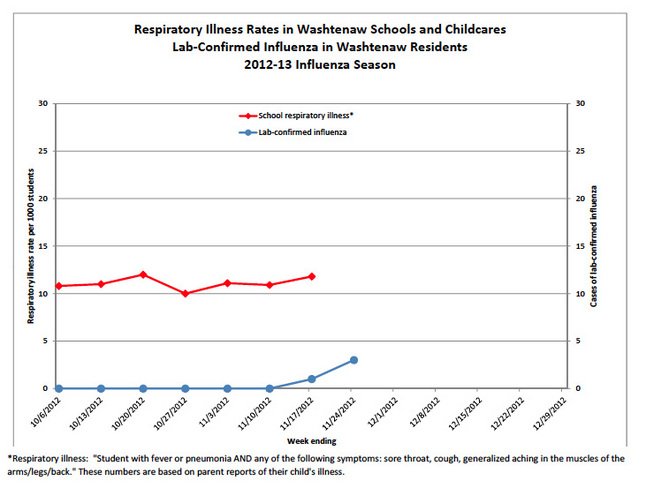 Courtesy Washtenaw County Public Health
Amy Biolchini covers Washtenaw County, health and environmental issues for AnnArbor.com. Reach her at (734) 623-2552, amybiolchini@annarbor.com or on Twitter.