Posted on
Sat, Jan 12, 2013 : 1:30 p.m.
Flu season: Vaccine in limited supply at Ann Arbor pharmacies; shipments expected next week
By Amy Biolchini
If you're looking to get a flu vaccine over the weekend at an area pharmacy, you may be out of luck.
Many pharmacies in Ann Arbor and Ypsilanti report they've run out of doses of the standard flu vaccine issued this year by the Centers for Disease Control and Prevention, but expect limited shipments of 50 to 100 vaccines to be delivered at some point next week.
Health care providers, however, report their flu vaccine stocks are in good standing.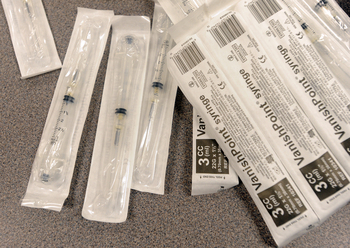 AnnArbor.com file photo
However, the high-dose flu vaccine intended for individuals aged 65 and older are still available. Flu shots range in price from $25 to $30 at area pharmacies. The high-dose vaccine is about $10 more.
Patients are advised to call their pharmacy beforehand to see if the vaccine is in stock. Some pharmacies have started waiting lists.
The University of Michigan's University Health Service has administered 1,800 vaccinations since Oct. 1 to U-M students, faculty, staff and their dependents, and has 1,000 doses remaining, said director Dr. Robert Winfield.
U-M is posting information about the flu season in residence halls, but is not hosting mass vaccination events for its students, Winfield said.
Flu shots are $42 through UHS and are available by appointment only by calling 734-764-8325. The health service is adding nurses to be able to provide more vaccine appointments, Winfield said.
U-M has not seen an uptick in flu cases amongst its students, Winfield said, but said there are flu cases on campus.
Packard Health has flu shots available for patients on a walk-in basis between 1 and 3 p.m. Monday through Friday.
The VA Ann Arbor Healthcare System is hosting several walk-in vaccination clinics for veterans.
Saturday from 8 a.m. to noon veterans can receive free flu shots at the VA Ann Arbor Medical Center at 2215 Fuller Road in Ann Arbor. Veterans who are not registered in the VA Healthcare system should bring their DD-214 discharge papers.
Additional clinics for veterans at the medical center will be from 4 to 7 p.m. Monday and Wednesday.
Washtenaw County Public Health has filled most of its flu clinic appointment slots for next week, said Laura Bauman, epidemiologist for the department.
To schedule an appointment to receive a $20 flu shot at the county's clinic, call (734) 544-6700. Public Health does not offer the high-dosage vaccine intended for seniors.
The health department reports about 150 confirmed cases of flu in the county to date, with reports continuing to come in.
It's not too late in the season to get vaccinated, Bauman said, as the flu season has likely not peaked yet. Even after the season's peak, the flu can still circulate for an additional six weeks.
Two different strains of flu are circulating -- Type A and Type B, and the vaccine contains both. Should a person not receive a flu vaccine, they're at risk for contracting the flu twice, Bauman said.
The vaccine takes two weeks to work, Bauman said. The Centers for Disease Control and Prevention report the vaccine has shown to be 62 percent effective in preventing the flu this year.
"The vaccine is designed to not only help that individual get vaccinated, it helps overall in the community in that fewer people are contagious and shedding the virus," Bauman said. "It's a good, but not great vaccine."
Researchers are looking for ways to improve the flu vaccine, including making one that lasts longer than one year, Bauman said.
Has finding a place to get a flu shot been difficult this year for you? Let me know in the comments section below.
Amy Biolchini covers Washtenaw County, health and environmental issues for AnnArbor.com. Reach her at (734) 623-2552, amybiolchini@annarbor.com or on Twitter.