community wall links:

Food Gatherers help bring healthy snacks to Perry Nursery School; Ann Arbor Women Artists offer free lecture on painting technique

Posted on Tue, Sep 4, 2012 : 10:05 a.m.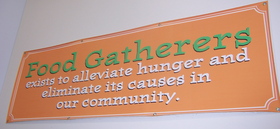 Corinna Borden | AnnArbor.com file photo
From a partnership between Food Gatherers and Perry Nursery School providing nutritious food for preschoolers to a free art talk offered by the Ann Arbor Women Artists, here's a roundup of some of the stories posted on AnnArbor.com's Community Wall over the last few days:
By: Food Gatherers: Serving Healthy Plates with Food Gatherers at Perry Nursery School
Where else will you see preschoolers eating brie and flaxseed crackers for a snack and crab cakes for lunch?
By: Ann Arbor Women Artists: Ann Arbor Women Artists Speakers Program Free & Open to the Public
You will learn about modern and mineral colors and how they relate to color mixing. You will be shown many gels and grounds that are available for amazing texture explorations.