Food Gatherers wins OK for major expansion of food storage facility in Ann Arbor
Posted on Tue, Oct 2, 2012 : 5:59 a.m.
Food Gatherers, a nonprofit organization working to relieve hunger in Washtenaw County for more than two decades, has plans for a major expansion in Ann Arbor.
The agency won approval Monday night from the Ann Arbor City Council for a 12,646-square-foot addition to the rear of its 16,977-square-foot facility on the city's north side.
"The economy has posed challenges. Right now in Washtenaw County, one in seven adults and one in six children are experiencing hunger," said Gary Bruder, a representative of Food Gatherers.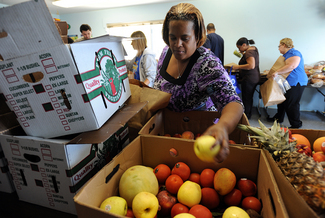 AnnArbor.com file photo
"We have made a decision that we need to increase cold storage and freezer space to address those needs," Bruder said.
Bruder said the expansion means better efficiency, better work spaces for volunteers and an increase in the diversity of food choices for recipients.
"The expansion means we will double our current food distribution capacity from 5 million to 10 million pounds," he said. "We'll increase our storage capacity for proteins and produce from 32 pallets to over 260 — it's an eightfold increase."
Food Gatherers, one of the country's first food rescue programs, was founded in 1988 by Zingerman's Deli. It's governed by a board of directors and operated by 24 staff people and more than 6,000 volunteers, distributing more than 5 million pounds of food annually.
The agency's current facility on Carrot Way contains administrative offices, training space, dry food storage and refrigerated food storage.
According to the plans, the bulk of the addition will be refrigerated space for storage of fresh and frozen food. Other improvements proposed include a slight reconfiguration of the main entrance door, outdoor produce washing stations and 22 additional parking spaces.
The site currently has 28 vehicle parking spaces, five loading spaces (three for small vehicles at the front of the building, two for larger trucks at the rear) and two bicycle parking spaces.
An administrative land transfer will increase the lot area to 2.73 acres and decrease an adjacent vacant parcel, which Food Gatherers also owns, from 3.5 acres to 3.07 acres.