Posted on
Sun, Feb 28, 2010 : 6 a.m.
Could you change 10 percent of your diet to locally-sourced foods? Washtenaw County summit to issue challenge
By Tina Reed
Sitting down on a recent Friday morning to a freshly cooked meal of eggs, sautéed potatoes and homemade waffles topped with canned peaches, Ann Arbor resident Gus Teschke looked in a state of mild bliss.
He was sitting amidst other diners in the large kitchen of a west side Ann Arbor home positively bustling with lively music, conversation and the smells of breakfast as residents showed up to try the weekly bounty. Don't be shy about ordering everything on the menu, he suggested. "Everything here is wonderful," he said.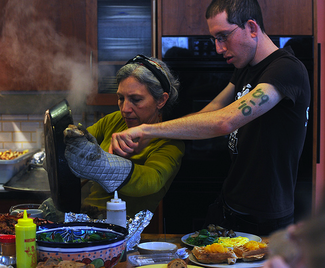 And all of this food, from the fresh milk for the coffee to the meat that supplied the bacon, all comes from southeast Michigan, said the chef and a host of the meal, Lisa Gottlieb, as she briskly cracked a few eggs into a sizzling pan.
In fact, showing folks how enjoyable local foods can be, is kind of the whole point.
It's part of the Friday Mornings @ SELMA (the Soule-Eberwhite-Liberty-Madison-Affiliation), a breakfast gathering meant to showcase local food in the community and to raise funds to support the local food movement in Washtenaw County. The event is affiliated with the nonprofit organization Slow Food Huron Valley.
This growing group of folks is leading a push to take the trend of eating local and seasonal foods mainstream. They will be brainstorming ideas at the HomeGrown Local Food Summit 2010 on the University of Michigan campus in early March. About 200 people are expected to attend.
"People are really hungry for community," said Jeff McCabe, who hosts the breakfasts with Gottlieb, his wife. "We want to be a catalyst."
The summit, to be held March 2, will feature discussions with local stakeholders, such as chefs, farmers and eaters, about progress made in Washtenaw County in expanding efforts to encourage local food consumption.
"This is the idea good food for every one needs to be a basic human right," said Kim Bayer, a member of the leadership team at Slow Food Huron Valley.
This second annual summit will also focus on brainstorming ways to meet a goal of increasing the share of locally grown food that is part of the $1 billion worth of food consumed within the Washtenaw County to 10 percent in the next decade, McCabe said.
Currently, it's estimated about 1 percent of the food consumed within the county is local, he said.
The summit will look at establishing benchmarks for growing the local food movement, such as creating more community gardens and helping young farmers get access to good land.
Improving local food sources is an economic, environmental and food security issue, Bayer said. For instance, buying locally sourced food keeps dollars supporting local farms in the community, reduces the amount of miles food must be shipped and allows consumers to build a trusting relationship with the person who produces their food.
If a person's produce comes from a local farm, they could go see for themselves what sort of practices are being used to produce or process that food, she said. "Most people probably don't even know they can do that," Bayer said.
Eating local can also be more healthy because it often means avoiding highly processed foods for more seasonal, natural foods. "The entire lifestyle that develops around (eating local) is really quite affordable," McCabe said, referring to planning and cooking at home that's often involved.
"We've made a substitution in our culture," McCabe said. "Where we used to pay about 10 percent of our income on health care and 30 percent on food only about 50 or 60 years ago, it's not the other way around and now I would say we probably are spending 30 percent on health care and 10 percent on food. It wouldn't necessarily be a terrible thing to spend more on food."
It also often takes an organized push of support for policies that support local food agriculture when many government policies usually support commodities like corn and soy beans, he said.
Teschke said he plans to attend the summit so he can get more involved in the local food movement.
"Most of my involvement up to this point has been eating," Teschke said. "I want to see what they're doing, what the future brings. It's important. Local food builds community and it's better food."
Tina Reed covers health and the environment for AnnArbor.com. You can reach her at tinareed@annarbor.com, call her at 734-623-2535 or find her on Twitter @TreedinAA.