Posted on
Wed, Dec 16, 2009 : 6:40 p.m.
Now served in Ann Arbor, Domino's new pizza recipe is worth another bite
By James Dickson
Ann Arbor Domino's Pizza stores are the first of more than 8,000 in the chain to launch its new pizza recipe, announced Wednesday.
The crust, the sauce and the cheese - the core of the pizza - all represent major upgrades over what they replaced, Domino's is telling customers.
This writer conducted a taste test of his own, on Ann Arbor.com's behalf, to see whether Dominos' new pizzas are just more of the same or if they're worth another bite.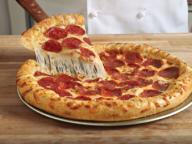 Courtesy, Domino's Pizza
In terms of taste, it is the latter: the pizzas really do taste better than a brand that had become tough to distinguish from its competitors. But the big question now and in the new year is whether the new Domino's flavors, along with the company's advertising and incentives, will convince pizza-eaters who've moved on to cheesier pastures to give it another try.
The biggest improvement is in the crust, which is traditionally the weak-link of delivery pizza. Major pizza companies tend to prefer blander crusts that may not taste good but won't turn anyone off - America's experiment with cheese-stuffed crust notwithstanding.
But the new, garlic-and parsley-speckled crust at Domino's is the sign of a conscious choice in favor of flavor and makes the pizza worthwhile from first bite to last. Cheese-down, delivery pizza is delivery pizza; crust offers the biggest opportunity for a taste upgrade. People who buy Hungry Howie's pizza for the flavored crust will now be able to do the same at Domino's.
The new pizza sauce is bolder and tastier than the unremarkable, garden-variety tomato sauce it employed in the past, while the cheese is now 100 percent mozzarella.
Neither change is worth writing home about, but if you've tried Domino's Pizza in the past and decided that it's not for you, the upgrades are substantial enough to merit another shot. Even though this writer prefers his pizza New York-style, Domino's is now another worthy option on the delivery menu, a la Cottage Inn, when I want something a bit less greasy.
The pizza maker is banking on these upgrades, branding the new recipe as nothing less than a "reinvention" of the Domino's brand. Company spokesman Chris Brandon said that while Domino's has long been respected for its quality service, the company wants to be known for its menu offerings as well. No one orders pizza just because the pizza guy arrives promptly.
"Our pizzas have obviously built a successful business," Brandon said. "But we thought that this was the time to reach out to a bigger audience and upgrade the quality of our staple product," pizza.
In recent years, Domino's has changed up its menu to keep pace with its competitors, branching out into oven-baked sandwiches, pasta dishes, and even cake. The new pizza recipe follows two years of focus groups and taste testing.
AnnArbor.com's Nathan Bomey reported that Domino's has spent more than 200,000 man-hours retraining workers in its 5,000 stores over the last two weeks.
Domino's also plans to offer incentives as the new recipe rolls out nationally, selling two medium-sized, two-topping pizzas for $5.99 each. With Little Caesar's offering "Hot and Ready" pizzas for $5 all over the country, Domino's has to fight to re-gain the attention of people who've written it off because its pies cost too much.
Meanwhile, Ann Arborites looking to conduct a comparative taste test between new and old won't have that chance, at least not without some driving. An official with Domino's explained that when shops are outfitted with the newer pizzas, as Domino's has already done in its hometown stores in Ann Arbor, the older version will no longer be available.
The rest of the country won't get the new pizzas until Sunday, Dec. 27.
James David Dickson can be reached at JamesDickson@AnnArbor.com, or Twitter.com/JamesDDickson.