Posted on
Thu, Jun 20, 2013 : 5:57 a.m.
Michigan universities struggle for balance between revenue and tuition costs
By Kellie Woodhouse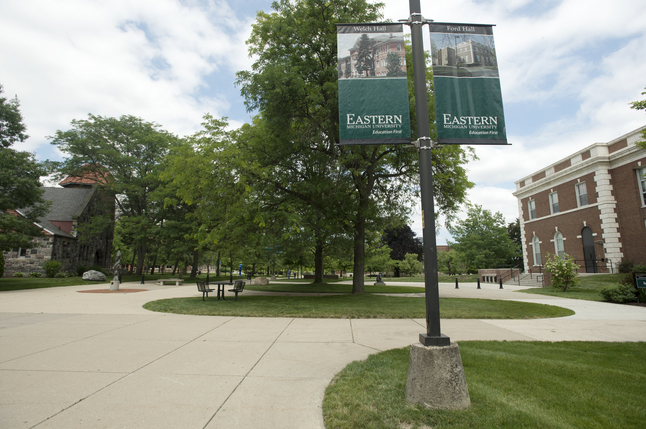 Melanie Maxwell | AnnArbor.com
For university governing boards, striking a balance between containing college tuition and growing revenue to pay for increasing expenses is a delicate matter — and one that is under a microscope as the nation takes a critical eye to what the U.S. president calls skyrocketing college costs.
Eastern Michigan University increased in-state tuition 3.75 percent on Tuesday, bringing the cost of a full-time education at the Ypsilanti school to $9,364 per year. That's a 66 percent cost increase from a decade ago.
The University of Michigan charges in-state students $12,994 a year and will decide on a tuition increase Thursday. In-state students are paying 63 percent more to go to U-M now than they did a decade ago. Out-of-staters pay $39,122, or 58 percent more than 10 years ago.
On Friday, Michigan State University's governing board is expected to approve a 2.8 percent tuition increase, bringing the in-state rate to $12,683 per year.
As U-M's eight-member governing board pours over the school's fiscal 2013-14 budget, it's grappling over how minimally it can raise tuition and maintain a growing academic enterprise, pay for faculty salary increases and fund construction activity that averages $523 million a year over the past decade.
"I think it is expensive to go to college, whether you're in-state or out-of-state. You can't price yourself out of the middle class. You just can't do that. That's not what we're about," U-M regent Andrea Fischer Newman said in a March interview.
Tuition is not the only factor in covering costs — U-M and EMU are looking at cost containment efforts and operating efficiencies, U-M is about to embark on a multibillion-dollar fundraising campaign and both institutions receive state funding— but it is a significant one.
In an interview Tuesday, EMU Board of Regents chair Francine Parker said EMU's 3.75 percent tuition increase — which hits the tuition increase cap outlined by the Michigan Legislature in its recent higher education budget — is necessary to pay for campus improvements.
"We've looked at restructuring our programs, we've reduced overall our operating costs, so while it's an increase there are really things that the increase is going to bring to help us, not only in assisting our current programs, but also some of the new things we're getting," Parker said. "I think anybody who comes on campus sees where the dollars are going. It makes it better for the generation that follows them."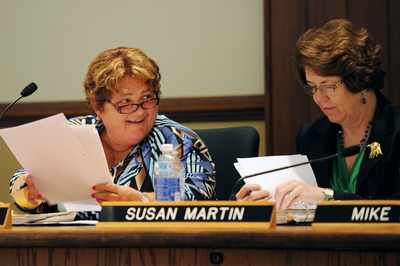 Melanie Maxwell | Annarbor.com
Parker said she and the board would have liked to authorize a higher tuition increase, but did not want to be financially penalized by the state. If the school went above the legislature's 3.75 percent cap, it risked losing some of its $66.5 million in state funding.
EMU regents also approved a $296.4 million operating budget on Tuesday.
The new makeup of U-M's governing board — which includes two new Democratic regents elected in November — could lead to one of the more modest tuition increases in recent history.
Last year, a 2.8 percent increase passed in a 5-3 vote during a June meeting. The three regents who voted against the increase — Andrea Fischer Newman, Denise Ilitch and Larry Dietch — remain on the board. Meanwhile, two of the regents who supported the increase have since retired from the board. They've been replaced by Mark Bernstein and Shauna Ryder Diggs, both Democrats elected in November.
Bernstein, of Ann Arbor, said during the election he would have voted against the 2012 tuition increase. Diggs, in an October interview, did not say whether she would have voted against the increase but said the school needed to "hold costs or decrease costs."
All eight U-M regents did not respond to, or declined, requests for comment on this article.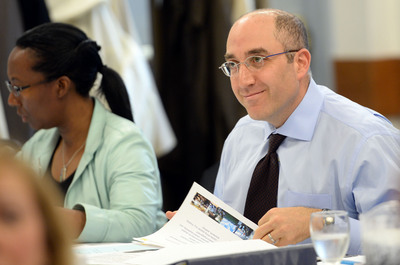 In past years tuition increases for out-of-state students have been larger than increases for in-state students. Despite the increase in non-resident tuition, the number of applications from out-of-state continues to grow. Regents could decide to leverage out-of-state tuition as a way to keep in-state tuition low. Yet doing so will require a strategy to enroll socio-economically diverse out-of-state students. The vast majority of U-M's non-residents are wealthy.
U-M regents will discuss fiscal 2013-14 tuition rates during a public meeting Thursday at 3 p.m. in the Michigan Union on the school's Ann Arbor campus.
In 2012, U-M had the second-most expensive in-state tuition rates in Michigan, after Michigan Technological University. EMU had the third-lowest tuition rate of the state's 15 public universities.
Meanwhile, Western Michigan University increased its 2013-14 resident tuition to $10,355, Central Michigan University 's 2013-14 tuition is $11,220, Ferris State University's tuition is $10,950 and Saginaw Valley State University increased next year's tuition to $8,423.
Correction: An earlier version of this article said U-M has spent an average of $523,000 a year on construction. The correct figure is $523 million. Kellie Woodhouse covers higher education for AnnArbor.com. Reach her at kelliewoodhouse@annarbor.com or 734-623-4602 and follow her on twitter.