Ford Boulevard in Ypsilanti Township will be open but under construction for six weeks
Posted on Fri, Aug 24, 2012 : 4:56 p.m.
The Washtenaw County Road Commission is warning drivers to expect delays for the next six weeks on Ford Boulevard between Ecorse Road (M-17) and the Michigan Avenue (M-12) overpass in Ypsilanti Township while the county repaves the road.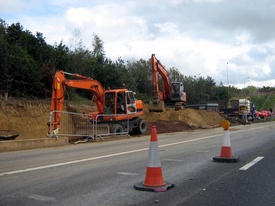 Work on the boulevard will get under way
Tuesday
and is scheduled to be completed in early October. However, the commission said in a press release that dates are tentative and weather-dependent.
The project will alter the four-lane section of Ford Boulevard to include one lane in each direction, a shared left-turn lane and bicycle lanes. The project is being termed a "road diet" by the commission.
The press release stated the work also will include gutter repairs, drainage structure repairs and sidewalk upgrades.
The road will remain open with one lane operating in each direction during the construction, and access for businesses, residents and deliveries will be maintained, according to the release. However, lower speed limits will be posted and drivers are being told to expect delays in both directions.