Posted on
Fri, May 31, 2013 : 2:50 p.m.
Forecast calls for rain and then cooler start to next week
By Kyle Feldscher
Has everyone enjoyed their taste of summer this week? The high temperatures, the sometimes-suffocating humidity, the quick rains that make it all better?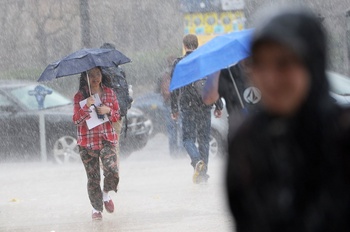 Melanie Maxwell | AnnArbor.com file photo
Good, because it's all going to be gone on Monday.
That might be a slight overstatement, but a rainy weekend promises to give way to much lower temperatures — but sunnier skies! — next week.
According to Weather Underground, the recent trend of sunny skies quickly turning into a thunderstorm and then turning back into sun will continue for the rest of Friday. Temperatures will reach a high of 82 and there's a 50 percent chance of rain.
Weather Underground says a fifth of an inch of rain is possible Friday night, should the "chance of thunderstorms" become "a reality of thunderstorms."
However, the times will be a'changin' on Saturday. The rain is expected to pick up and the clouds will block the sun, leaving us with an 80 percent chance of rain here in Ann Arbor. Approximately one-third of an inch of rain is possible on Saturday, when the high will be about 79 degrees.
The rain will fade away by Sunday, and the high temperatures are likely to go with it. After a week in the 80s, the high of 70 degrees on Sunday will probably feel like a nice dip in a cool lake. Or something like that.
Come Monday, it'll be all right for fans of more moderate temperatures. The high is expected to reach around 63 degrees with a low temperature of a nearly-bone-chilling 43 degrees. But, on the bright side, the forecast calls for perfect sunny skies.
Don't pack away all those fancy sweatshirts and jackets just yet, Ann Arbor.
For updated forecasts and conditions anytime, check AnnArbor.com's weather page.
Kyle Feldscher covers cops and courts for AnnArbor.com. He can be reached at kylefeldscher@annarbor.com or you can follow him on Twitter.