Posted on
Thu, Jan 19, 2012 : 7:40 a.m.
Forecast in Ann Arbor: Cold, with a little snow now and a lot more later
By Cindy Heflin
Snow moving into the Ann Arbor area Thursday morning is a bit of an appetizer for the main course, which will arrive Friday.
The National Weather Service issued a special weather statement this morning urging motorists to allow extra time for travel as snow falls and roads become snow covered and slick. Multiple crashes were reported on highways and roads throughout Washtenaw County this morning.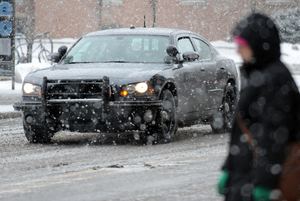 Melanie Maxwell | AnnArbor.com
This morning's snowfall comes ahead of a cold front expected to push into the area this afternoon, sending temperatures plunging into the single digits tonight. Coming on its heels is a low-pressure system that could bring up to 5 inches of snow to the area Friday. Exact snowfall totals are still uncertain, the weather service said.
After this morning's snow moves out of the area, we can expect mostly cloudy skies with temperatures falling to about 15 by about 5 p.m. Temperatures will continue their downward slide overnight to about 6 degrees with wind-chill values as low as 1 below zero. Snow flurries are possible.
Snow is likely after 1 p.m. with accumulations of 1 to 2 inches expected. A high of 20 is forecast.
Snow will continue Friday night with additional accumulations of 2 to 4 inches expected.
For updated forecasts and conditions anytime, check AnnArbor.com's weather page.