Posted on
Thu, Apr 18, 2013 : 7:39 p.m.
Ann Arbor forecast: Rain slows down but wind speeds up for dreary Friday
By Kyle Feldscher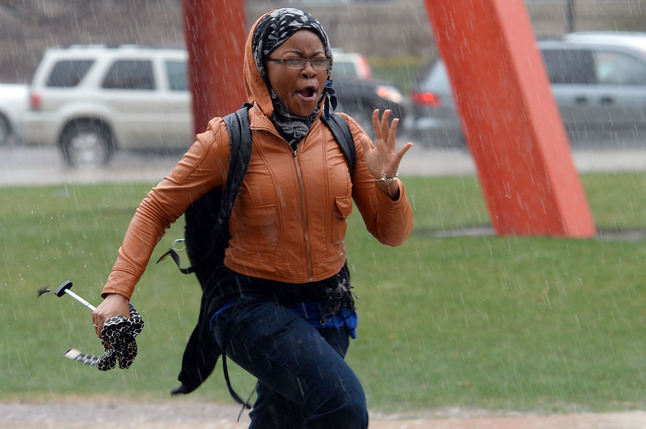 Melanie Maxwell | AnnArbor.com
Friday's probably going to be a bad hair day for a lot of people in Ann Arbor.
National Weather Service meteorologist Deb Elliott said winds out of the southwest could reach up to 45 miles per hour Friday morning. Those high winds will likely keep blowing throughout the day, she said.
"That wind stays up through the afternoon," Elliott said. "We could have 30-40 mile per hour winds through late tomorrow night. It's going to be a windy day."
Storms swept through the Ann Arbor area Thursday afternoon, knocking down trees and power lines and rendering 10,000 DTE Energy customers without power at 4 p.m.
It doesn't appear as if there will be widespread severe weather in Washtenaw County Friday, but Elliott said isolated thunderstorms could pop up. Some of those storms could contain winds that gust up to 60 miles per hour.
A flood watch will be in effect in Washtenaw County through Friday morning, Elliott said. Heavy flooding has been reported on the west side of Michigan and Elliott said some of that moisture could make its way east.
"We have our flood watch in effect through Friday morning and isolated severe rain forecasted to occur," she said. "All that moisture will be pushing this way."
Unfortunately, not only will the wind be ruffling the hairdos of the usually well-coiffed residents of Washtenaw County, it'll be a continuing reminder of a winter that doesn't seem to want to leave the party just yet.
According to the National Weather Service's forecast, it'll be about 51 degrees at 9 a.m. Friday. However, the temperature will dip throughout the day before settling near 43 degrees. An overnight low of 30 degrees is expected.
Don't worry, fair residents of Washtenaw County, there's good news on the horizon for Saturday … just kidding, NWS reports it might snow in the morning and temperatures will only get to 45 degrees.
Kyle Feldscher covers cops and courts for AnnArbor.com. He can be reached at kylefeldscher@annarbor.com or you can follow him on Twitter.