Forecasters: Winter storm now expected to miss Ann Arbor
Posted on Tue, Mar 5, 2013 : 8:52 a.m.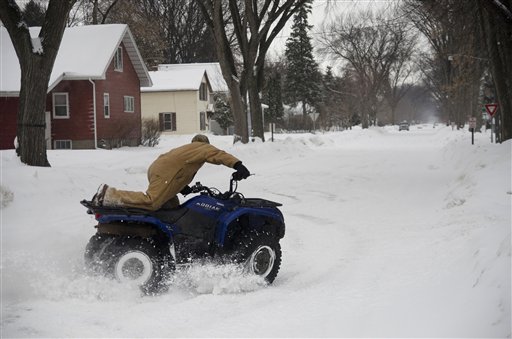 AP photo
A winter storm moving into the Great Lakes States on Tuesday is now on a track to miss Ann Arbor, forecasters say.
Monday afternoon, the National Weather Service was expecting the northern edge of the storm to bring an inch to an inch and a half of snow to the Ann Arbor area, but now forecasters say we may not get any snow at all.
The storm really tracked a lot further to the south, said Matt Mosteiko, a meteorologist with the National Weather Service in White Lake Township, which does forecasting for all of southeast Michigan.
"Right now, there's just a 30 percent chance of snow overnight," he said Tuesday morning.
Folks to our south will not be so lucky. Winter storm warnings are posted for northern Illinois, northern Indiana and northern Ohio, where some areas will get 6 inches of snow or more. Up to 10 inches was expected in Chicago.
The rest of the week we'll have highs in the mid-30s and lows in the 20s until a bit of a warming trend brings highs in the 40s for the weekend.
"Otherwise, there's really nothing to talk about in the forecast," he said.
Does this mean spring is on our doorstep?
"I hope so," Mosteiko said. "I think we paid our debt to winter."
For updated forecasts and conditions anytime, check AnnArbor.com's weather page.