Posted on
Thu, Jan 10, 2013 : 1:39 p.m.
Former Ann Arbor police chief resigns as Flint public safety chief amid questions about second job
By Kyle Feldscher
Despite glowing reviews from his superiors, former Ann Arbor police Chief Barnett Jones resigned from his position as Flint's administrator of public safety Thursday, according to a report in the Detroit Free Press.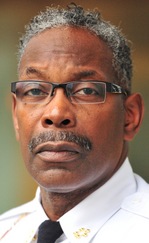 Jones was working in that position in Flint while also serving as the head of security for the Detroit Water and Sewage Department, according to the report. Jones' superiors in Flint were not aware of the second position until the Free Press asked them about his role earlier this week.
The report stated Jones has been working both jobs since May.
Flint emergency financial manager Ed Kurtz told the Flint Journal Jones resigned Thursday following a short meeting and submitted a one-line letter of resignation.
"He was working both jobs and had failed to tell us he was working for somebody else. We didn't know he was working for somebody else," Kurtz said. "We met with him this morning and he voluntarily resigned. He was very apologetic."
Jones announced in February 2012 he was retiring from his position as Ann Arbor's police chief. In April, he accepted a position as Flint's public safety administrator.
The Free Press reported Jones was making a combined $273,750 in both positions.
He was hired at the Detroit Water and Sewage Department by former city of Ann Arbor administrator Susan McCormick.
To read the full Free Press story, click here.
Kyle Feldscher covers cops and courts for AnnArbor.com. He can be reached at kylefeldscher@annarbor.com or you can follow him on Twitter.