Posted on
Sun, Jan 23, 2011 : 6:01 a.m.
Report details past problems with former Michigan assistant AG who targeted U-M student body president with anti-gay attacks
By David Jesse
Former Michigan assistant attorney general Andrew Shirvell was warned about using state resources to launch anti-gay attacks on politicians two months before he began targeting the University of Michigan's student body president, newly released documents show.
The earlier warning stemmed from an e-mail Shirvell sent at 11:57 a.m. Feb. 3 to a former state representative before a protest planned at the Capitol building. The nature of the protest isn't clear.
"The grassroots will NEVER let you and your (gay slur) ….. hijack our pro-life, pro-family party in pursuit of your PERVETED radical homosexual agenda," Shirvell wrote to former state Rep. Leon Drolet and others.
A recipient of the e-mail contacted the attorney general's office, prompting his supervisors to warn Shirvell not to use state resources that way again and not to "engage in that conduct again," according to an investigation report compiled by the attorney general's office and obtained by AnnArbor.com.
But he did, the documents say, eventually leading to a 586-page investigative report on which Shirvell's firing was based.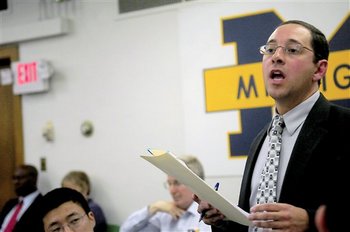 Marissa McClain | The Michigan Daily
The investigation was launched after Shirvell, an U-M alumnus, drew national attention for his anti-gay blog attacking Chris Armstrong, the university's first openly gay student body president. Shirvell started the blog last April.
The e-mail to Drolet was listed among the eight reasons for Shirvell's firing on Nov. 8. After national attention in the case mounted in late September, the attorney general's office drew more than 22,000 e-mails, 150 letters and 940 phone calls, most advocating for Shirvell to be fired, documents show.
The investigation was conducted over the course of a month and included more than 40 witness statements and interviews, a forensic computer examination and several interviews with Shirvell.
The report accuses Shirvell of calling police to create a newsworthy event, improperly using state resources and verbally assaulting his supervisor.
Shirvell has said he was just exercising his free speech rights and did it outside of work hours. He could not be reached for comment for this story.
"Employees should not be fired solely for exercising their protected First Amendment rights, irrespective of how unpopular their speech might be," according to the report, authored by Douglas Bramble, director of the office of human resources, and Thomas Cameron, bureau chief of the Criminal Justice Bureau. "However, AAG Shirvell's conduct in violating office policy, borderline harassing behavior, inappropriately using state resources and evasive - sometime false statements given at the Disciplinary Conference, are factors which support our recommendation for his termination."
The conflict
Shortly after Armstrong was elected, Shirvell started a blog condemning the U-M student body president for his "radical homosexual agenda."
He also showed up outside Armstrong's residence, at student government meetings and at other events to protest. University of Michigan police asked prosecutors to charge Shirvell with stalking, but prosecutors declined and said Shirvell's actions were not considered harassment under the stalking statute.
U-M also placed Shirvell on a trespass list, barring him from campus, but that order was later modified to just ban Shirvell from having contact with Armstrong on campus.
Armstrong filed for a personal protection order against Shirvell, but dropped his request after Shirvell left him alone.
After Shirvell was fired from his job, Armstrong and his attorney, Deborah Gordon, petitioned the state Attorney Grievance Commission to have Shirvell disbarred. That process is still ongoing.
Gordon said Friday that Armstrong has not ruled out further legal action against Shirvell, who is still listed in state bar records as working in the state attorney general's office.
"The AG did a thorough investigation," said Gordon, who has a copy of the findings. "It's sad. He comes across as a very misguided person who has no professional judgment.
"He obviously doesn't have the ability to function as an attorney. He's obviously filled with hate and willing to make up things about people without any consideration for the affect it will have on their lives."
The report
Shirvell, who was a paid worker on then Attorney General Mike Cox's campaign, was hired in the office on May 6, 2007. He worked in the appellate division, where he was an average to above average employee, the investigation said.
But the investigation turned up a number of incidents during his employment.
He was convicted of operating a motor vehicle while visibly impaired in 2009 and was sentenced to six months of probation.
RELATED CONTENT
This 10-page pdf is a summary of the Michigan Attorney General's Office investigation. An anti-gay slur was redacted, as well as several names to protect the privacy of those individuals. Warning: One page contains profanity.
And there was the Feb. 3 e-mail to Drolet. Shirvell promised he would never engage in such conduct again after he was confronted, the documents show.
"His supervisors immediately confronted AAG Shirvell, who admitted that he sent the e-mail from a state computer, but said he was 'on the lunch hour' and he sent it from his personal e-mail account. Both of his supervisors, Joel McGormley and Eric Restuccia, verbally counseled him that this was an unacceptable use of state resources and to never engage in this conduct again."
But the investigation found he continued such conduct, posting political comments on Facebook from April 26 to July 29.
"During the Disciplinary Conference, however, AAG Shirvell denied using any state resources whatsoever in his efforts against Mr. Armstrong. He stated that all of his Facebook and blogging posts about Mr. Armstrong were made from his home computer. This is entirely inconsistent with the dates and times of several of his Facebook posts and his payroll records," the investigation memo said.
The investigation also detailed a verbal assault Shirvell is accused of making on his supervisor.
According to the report, Shirvell's supervisor sent an e-mail Aug. 31 to the entire division about an issue that came out of a case Shirvell handled in court.
"In response to this seemingly innocuous e-mail, AAG Shirvell stood in his supervisor's doorway and proceeded to scream at him, repeatedly stating: 'this is (expletive) and (expletive). AAG Shirvell further screamed that he was not going to work any more (expletive) overtime or do anything for the (expletive) division.
"Staff described AAG Shirvell as being 'unhinged' and some staff believed that he was on 'the brink of physically assaulting' his supervisor. Even giving every benefit to AAG Shirvell, it is difficult to understand how an innocuous e-mail from a supervisor 'pushed his buttons' and elicited such extraordinary anger."
Shirvell was suspended for two and a half days.
On Sept. 4, the day after returning to work, Shirvell went to Armstrong's off-campus house at 1:30 a.m.
"After reviewing all of the evidence, it is clear that he went to Mr. Armstrong's home for the purpose of taking pictures of a party that AAG Shirvell had learned was to be held at Mr. Armstrong's home," the documents state. "During the Disciplinary Conference, AAG Shirvell admitted he was not there to protest or advocate any position."
Instead, Shirvell told them, he was there to determine whether Armstrong was following the rules governing underage drinking. According to documents, Shirvell observed more than 100 people there, said he saw someone urinating outside, and called police.
Once officers arrived, Shirvell took photos and video.
"This 'raid' was played up in AAG Shirvell's blog the following day as a 'stunning turn of events' with 'exclusive pictures and videos' of police 'descending' on Mr. Armstrong's house," the investigation said.
The investigation report said a number of people in Shirvell's office told him to stop blogging because it was undermining his professional credibility and was inviting civil litigation.
"Solicitor General Restuccia specifically recalls telling AAG Shirvell that he could be opening himself to civil liability for what he was saying, but AAG Shirvell responded, 'he did not care and it would be better to be on the curb then not be true to his beliefs' and if 'they' sued', he would just file for bankruptcy," documents state.
The department didn't buy Shirvell's argument that it was protected speech.
"The totality of the circumstances establishes that AAG Shirvell's conduct has affected this department's ability to operated efficiently and effectively," the report said.
David Jesse covers higher education for AnnArbor.com. He can be reached at davidjesse@annarbor.com or at 734-623-2534.