Posted on
Fri, Jul 20, 2012 : 11:21 a.m.
Former colleagues: Ex-Ann Arbor police chief Dan Oates 'well prepared' for crisis like Colorado shooting
By Kyle Feldscher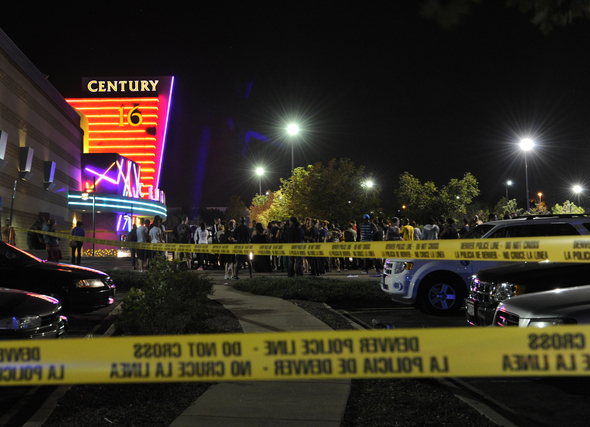 The Associated Press
Previous story: Ex-Ann Arbor police chief Dan Oates leads investigation into Colorado 'Dark Knight' massacre
Former Ann Arbor police Chief Dan Oates is dealing with "every police department's worst nightmare" Friday after a gunman killed at least 12 people and injured scores more in Aurora, Colo., according to former colleagues.
However, those same former colleagues say residents of Aurora are lucky to have Oates as their police chief in the wake of such a brutal tragedy.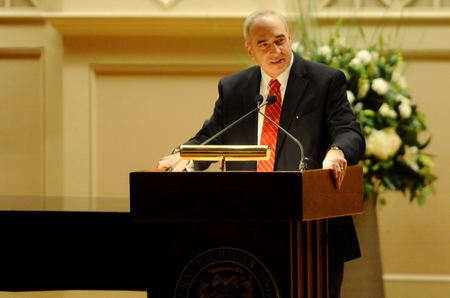 Melanie Maxwell I AnnArbor.com
Rich Kinsey, a retired detective sergeant who worked closely with Oates and a weekly contributor to AnnArbor.com, said he had every confidence in Oates' ability to lead such a tragic investigation.
Kinsey also expects Oates to push his investigators to do everything in their power to build a rock solid case against the alleged shooter, James Holmes, who is in custody.
"He will be all over, he'll be everywhere," Kinsey said of Oates. "He had this knack of being every where all at once, he'll be on top of this. He knows what's going on with every investigation and is demanding with his personnel.
"He's well prepared to do something like this."
Oates was Ann Arbor's police chief from summer 2001 until 2005. He came to the department from New York City, where he spent more than 20 years in that city's police department.
Those experiences in New York brought new perspective to the Ann Arbor Police Department, said AAPD Deputy Police Chief Greg Bazick.
The department has predetermined protocols for many different disaster situations, often in conjunction with Washtenaw County, but Oates' experience brought a new level of expertise to fine-tune those plans, Bazick said.
He pointed to another tragedy in Colorado, the Columbine High School shooting, as a catalyst for change in how departments prepared for an "active shooter scenario."
It's something Oates was ready for, he said.
"You can look as far back as Columbine. That really put a change in how law enforcement prepares and responds to any scenario with an active shooter," he said. "That's the kind of thing he's dealing with now."
"Dan brought into the police department his own level of expertise and experience," he added.
One thing that will serve Oates well in the coming days is his ability to help communities heal following tragedies.
Ann Arbor Mayor John Hieftje said Oates helped limit the backlash against Muslims in Ann Arbor following the terrorist attacks on Sept. 11, 2001, just weeks after he left the New York Police Department. The same night as those horrific attacks, Hieftje and Oates were meeting with Muslim leaders to plan events the next day.
Hieftje said Oates' activities in those initial hours helped Ann Arbor be one of the areas with almost no criminal acts against Muslims following 9/11.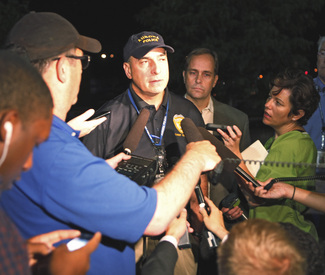 The Associated Press
"He was just great to have around for his advice and we did not have any incidents in Ann Arbor and other communities did," Hieftje said. "That kind of really calm, sage advice will service the people in Colorado very well."
In addition, Oates' top-down leadership style is well suited to emergencies, Hieftje said.
Oates ran the Ann Arbor Police Department like a military organization and he demanded a similar amount of precision from his investigators, Hieftje said. In uncertain and developing situations, that's the kind of person a department needs, he said.
"There will be no ambiguity. He will be straightforward and his people will be performing like a military team," Hieftje said.
That kind of performance gives Kinsey the feeling that, even though much of the country is reeling from the shocking news coming from Aurora, Oates will be able to help the community recover in due time.
"Dan Oates is a good man, his department will take care of this," he said. "It's tragic and unfortunate, and every department's worst nightmare, but they'll take care of this."
Listen to police scanner traffic from the Aurora, Colo., shootings.
Kyle Feldscher covers cops and courts for AnnArbor.com. He can be reached at kylefeldscher@annarbor.com or you can follow him on Twitter.