Posted on
Wed, Nov 9, 2011 : 2:59 p.m.
Former colleagues say Ann Arbor native who accused Cain of harassment is credible
By Cindy Heflin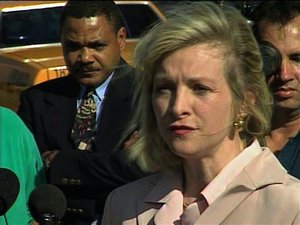 AP photo
Former colleagues of the
Ann Arbor native who once accused Herman Cain of sexual harassment
remember her as a serious and highly competent journalist.
Karen Kraushaar, formerly Karen Grassmuck, was a reporter at The Ann Arbor News in the 1980s.
"Karen is intelligent, competent, professional, and totally credible," former News reporter Stephen Cain wrote in a Facebook message to AnnArbor.com. "There is nothing in how she presented herself that would indicate she would be approachable in any other than a professional manner. To me, that says that Cain's arrogance and sense of self-absorbed entitlement knows no bounds."
Geoff Larcom, now a spokesman for Eastern Michigan University, said he could shed no light on the harassment allegations but, like Stephen Cain, had a positive impression of Kraushaar and her work.
"I remember her as a serious and diligent and sort of forward-thinking colleague, who had her eyes set on the possibilities the world of journalism offered," Larcom said.
Kraushaar's father, the late George Grassmuck, taught political science at the University of Michigan. Kraushaar is the co-author of a children's book, "Gas Station Charlie" which is based on a beloved golden retriever who carried credit cards and cash between customers and the attendant at a Saline gas station.
Kraushaar, 55, now a spokeswoman for the U.S. Treasury Department, was identified Tuesday as one of two women who received settlements when they worked with Cain at the National Restaurant Association more than a decade ago. Cain has called the accusations baseless.
News reports today quoted Kraushaar as saying Cain could be described as a "monster" and that she would like to have a news conference with other women who say Cain harassed them. She said she has not heard from the other women.
The Associated Press today reported that Kraushaar also complained about unfair treatment while she worked at the Immigration and Naturalization Service, after leaving the restaurant association.
In that complaint, she said she should be allowed to work from home after a serious car accident and accused a manager of circulating a sexually charged email. She later dropped the complaint.
To read more about this story, following the links or watch the video below: