Posted on
Sun, Apr 22, 2012 : 12:58 p.m.
Former computer engineer Eric Kampe sprouts Ann Arbor Seed Co.
By Janet Miller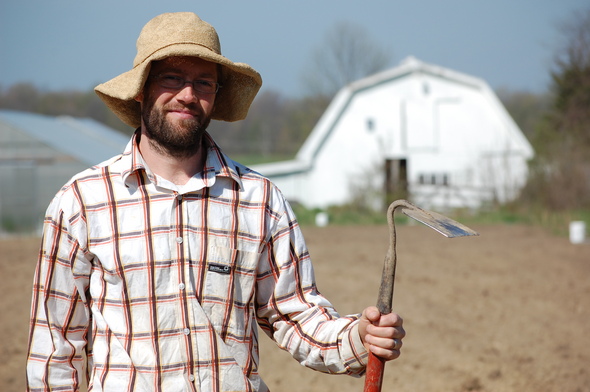 Janet Miller | For AnnArbor.com
Five miles west of downtown Ann Arbor, off a dirt road where the city turns into countryside, Eric Kampe is sprouting a new business.
Between day jobs, one as a driver for Eat Local/Eat Natural, which delivers local food to restaurants, the former computer engineer is plowing and hoeing and planting organic vegetables that a year from now will be Ann Arbor Seed Co. It is Ann Arbor's first - at least in recent history - seed company, and will add another piece to the growing local food movement jigsaw.
Kampe is leasing a three-quarter acre plot of land off of Tessmer Road. "I can't decide if it's a small farm or a big garden," he said. "I can't make up my mind if this is huge, or tiny." He began planting two weeks ago.
He came to farming by way of computer engineering, where he worked for three years in Michigan and two years in Boulder, Colo. "Boulder is where I found farming," said Kampe, a Michigan native and a University of Michigan graduate. "I've always been a strong environmentalist and I wasn't unhappy with engineering. But that's not where I wanted to stay."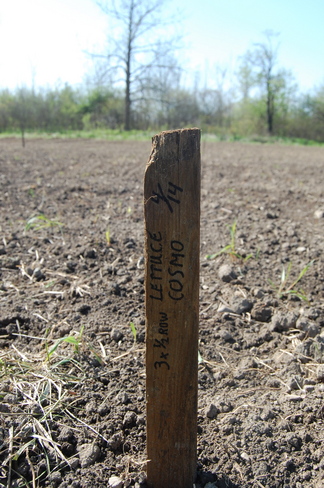 Janet Miller | For Ann Arbor.com
He began volunteering on a farm near Boulder and in 2007 found himself quitting his job to work full time for an organic seed and produce farm, Abbondanza, a contract grower for Seeds of Change, a nationally distributed organic seed company. "I really started to appreciate the local, organic, small scale farming movement," Kampe said. "What an elegant solution to so many of our problems."
He was drawn to the process of producing seed. "It's a beautiful completion of the process," he said. "I was young and got caught up in the wonder of it." He also found that he needed to use the same kind of problem-solving skills he developed as an engineer.
Most seed crops must mature completely - beyond the time when they are tastiest - in order to harvest seed. "It's a longer run, but it's not dramatically different from growing vegetables. It's just a different end product," Kampe said.
There are things to consider, however, such as cross-pollination. Because his field is relatively small, he's limited on some crops to growing a single variety because of cross-pollination.
For his first year, Kampe focused on lettuce and tomatoes because they are in high demand and because they don't cross-pollinate. But he's also adding sweet peas, spinach, Asian greens, cabbage, cucumbers, squash and more. He'll harvest the seeds at the end of the season and clean, screen bag and tag them over the fall and winter.
Kampe plans to sell Ann Arbor Seed Co. packets at the Ann Arbor Farmers Market and at as many area retail locations that are interested. After a couple of growing seasons, the seeds will make gentle adaptations to Ann Arbor climate and soil, making them truly local, Kampe said. Ann Arbor Seed Co. seeds will make the local food movement local from the start.
Kampe said it's impossible to predict how much seed he will have at the end of his first season. "It's really variable. There can be good years for lettuce and bad years for eggplant. That is amplified in the seed world," he said.
He wants to keep his business local, he said. "I'm not big enough to go regional, and that's not part of the plan. I want it to be local. I'm not looking to be a supplier to the big guys."
But that doesn't mean he doesn't have bigger plans.
He wants Ann Arbor Seed Co. to be a catalyst for seed saving, encouraging local gardeners and farmers to produce their own seed, and bringing people together to learn and discuss seeds. It's not competition in the same way hobby gardeners are not competition for farmers markets, Kampe said. Gardeners and farmers who save their own seed learn to appreciate its merits and will turn to Ann Arbor Seed Co. for the vegetable seeds they don't have, he said. "People who grow gardens become the biggest food advocates."