Posted on
Thu, Jan 24, 2013 : 6:24 p.m.
Former educator Coleman Jewett remembered as all-around Ann Arborite
By Amy Biolchini
Educator, athlete, artist and all-around Ann Arborite Coleman Jewett, 78, left behind a town full of memories after his death Wednesday: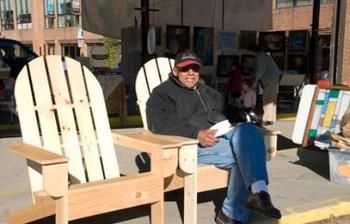 Courtesy of Khadijah Kolleck
A seat at
Washtenaw Dairy
, where he could be found every morning; a stall at the
Ann Arbor Farmers Market
; his hand-made Adirondack chairs at two
Ann Arbor YMCA
camps and lasting impressions among his former students and faculty from
Tappan Junior High School
.
Jewett was a teacher and later assistant principal at then Tappan Junior High School from the 1960s to early 1990s. A fixture at the Farmers Market for 45 years, Jewett's hand-crafted pine furniture - most notably his Adirondack chairs - was a top seller.
An Ann Arbor native, Jewett grew up attending the old Jones School in the building that is now Community High School. He's a graduate of Eastern Michigan University.
Jewett's family history is strong in Ann Arbor: His grandfather, George Jewett II, was the first black football player at the University of Michigan, Northwestern University and in the Big 10. The family reportedly is the namesake of Jewett Avenue.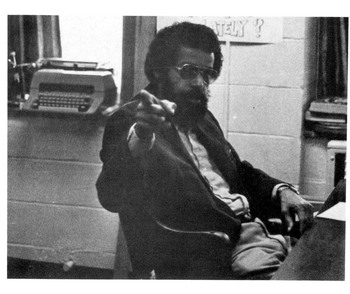 Courtesy of Joe Durrance
As the assistant principal at Tappan Junior High School, Jewett's office was where students would end up if they had disciplinary issues. His approach to dealing with troublemakers was unique, remembers colleague and former coach
Rob Lillie.
"He could lay the law down but he could have you not feeling so bad about it," Lillie said. "He just made everyone feel better."
Jewett had a round table in his office that he had painted with Looney Tunes characters, and he would draw caricatures of himself, teachers and students that he posted in a display case outside his office. He drove a large economy van to school, which he also had painted with Looney Tunes.
The van, coupled with Jewett's big afro and beard, made Jewett "kind of a hip guy," said Dave Morris, a former student in the late 1970's under Jewett's administration at Tappan.
Jewett had broken up Morris' first and only fistfight with another student in the hallway, and brought both boys to his office roundtable to talk it out over Blow Pops.
"He had this ability to make every kid fee like he mattered," Morris said.
Morris is now the senior director of health and wellness at the Ann Arbor YMCA, where Jewett was an active member.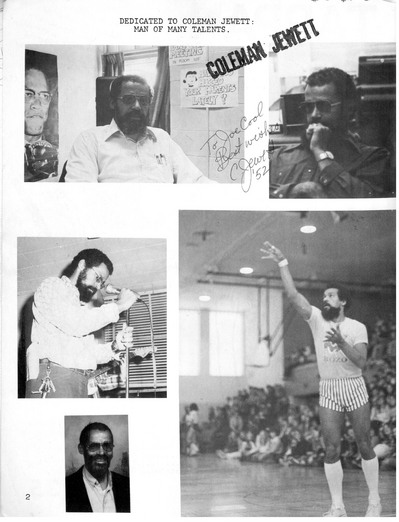 Courtesy of Joe Durrance
As a young man, Jewett became involved with the Ann Arbor YMCA. He's been an active member as the organization has moved through three different facilities in town, and organized weekly basketball games.
"It's the kind of group that plays together with different ages. Coleman was just sort of the heart of it; the person that everyone revolved around," said Cathi Duchon, president and CEO of the Ann Arbor YMCA. "Every day that we saw him, we just knew things were right."
At the YMCA, Jewett volunteered to help establish some of the first programs for youth after school.
"He's a treasure," Duchon said.
Another former student of Jewett's is Washtenaw Dairy co-owner Jim Smith. Smith said Jewett visited his store every morning to chat with the 10 to 20 regulars.
"He was down here pretty much every day as long as I can remember," Smith said. "He'll be really missed around here."
Jewett's presence was so regular at Washtenaw Dairy that Smith said he called Jewett's wife, Maggie Jewett, to check in on him this week after he didn't show up.
It was then Smith learned Jewett had a stroke Sunday. Jewett's death left a hole in the regular crowd at the Dairy Thursday, Smith said.
"Today we were sitting there … and that's usually where he sits," Smith said, explaining how it didn't feel the same without Jewett there. "He always sat in the same chair."
Jewett's nickname was "The Beaver," or "Beave" likely because of his longtime woodworking passion. He started selling chairs, shelves and crates that he built at the Ann Arbor Farmers Market in 1967. Jessica Black, now the facilities supervisor for Ann Arbor's Department of Parks and Recreation, managed the Farmers Market between 2004 and 2007.
"(Jewett) would always say, 'JB, I've got shirts older than you,'" Black recalled.
His demeanor, comic relief and smile were always something Black said she turned to when things at the market were overwhelming. A bench Jewett built still sits in the market office as a reminder of his presence.
Funeral arrangements for Jewett are pending.
Jewett also was a local historian, and the Ann Arbor District Library recorded the following interview with Jewett and other Ann Arbor townies in 2009:
Amy Biolchini covers Washtenaw County, health and environmental issues for AnnArbor.com. Reach her at (734) 623-2552, amybiolchini@annarbor.com or on Twitter.