Posted on
Sat, Sep 8, 2012 : 6:01 p.m.
Former Hollywood actress Louise LaPlanche of Ann Arbor dies at 93
By Lisa Carolin
Louise LaPlanche, an actress during Hollywood's Golden Age before moving to Ann Arbor for the past 15 years, died Friday, one day after her 93rd birthday.
"She is the end of an era," said LaPlanche's daughter, Pat Johnston, a former teacher and principal at Wines Elementary School.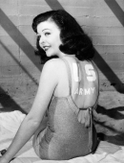 "She was in the movies from a very young age beginning with the original 'Hunchback of Notre Dame' with Lon Chaney and then was under contract with MGM and Paramount Pictures and was in many pictures with Bob Hope and Bing Crosby."
LaPlanche's mother moved to southern California from Kansas and had two daughters, Louise and Rosemary. Louise began her movie career at age 3, playing a gypsy girl in the silent film version of the "Hunchback of Notre Dame" in 1923.
Both sisters participated in numerous contests from dancing to beauty pageants, and Rosemary LaPlanche went on to win the title of Miss America in 1941. Louise won the title of Miss Catalina in 1939, which led to her signing with MGM, where she was featured in the movie "Strike Up the Band" with Mickey Rooney and Judy Garland.
LaPlanche went on to sign with Paramount Pictures and appeared in "Holiday Inn" with Bing Crosby and Fred Astaire. She played a harem girl who painted Bob Hope's toenails in "Road to Morocco."
LaPlanche married Lester Freedman, a clothing manufacturer, and modeled for him. The couple had two children, Phil Freedman, and Johnston.
After her husband's death when she was 65, LaPlanche went back to acting, doing commercials and bit parts on television shows, including "The Golden Girls" and several soap operas.
"My mom was a pretty amazing woman," said Johnston in an email. "She lived through breast cancer at 30, non-smokers lung cancer at 60, and colon cancer at 90. She was a very fun, upbeat person, and people that knew her enjoyed being with her."
Funeral information was not available Saturday.