Posted on
Wed, Nov 30, 2011 : 5:23 p.m.
Former Manchester village president dies from injuries suffered in head-on crash
By Julie Baker
Former Manchester Village President and University Bank Director David Little died at University of Michigan Hospital Wednesday after suffering major injuries in a head-on crash with a jackknifed semi.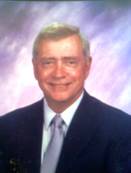 Courtesy of University Bank
Little, 73, was airlifted to U-M after emergency personnel removed him from his Ford Fiesta following the crash at around 8:30 a.m. Wednesday on M-52 near Bethel Church Road in Sharon Township.
Stephen Ranzini, University Bank president and chief executive officer, released a statement on Little's death Wednesday afternoon, saying, ""We are devastated by the loss of our director, Dave Little."
Little, a graduate of Manchester High School and Eastern Michigan University, was village president of Manchester from 1970-1978, according to information provided by University Bank.
He also was chairman of the Manchester Village Planning Commission from 1966 to 1970; was a member of the Washtenaw County Metropolitan Planning Commission including two years as chairman (1966-1969); and served the longest ever serving member of the Washtenaw County Parks Commission (1969-1999).
Little also was active in nonprofit activities, serving as president of each of the Manchester Jaycees, the Manchester Optimist Club and the Emanuel Church of Christ Board. He was also the founder and president of the Manchester Community Resource Center, which was formed in response to the closing of a major local employer. Little also taught classes in areas of his expertise at Washtenaw Community College, including two banking classes and a business class, according to University Bank.
Little joined the University Bank Board of Directors in 2010.
Funeral arrangements are pending with Borek Jennings Funeral Home.
Reach Julie Baker at juliebaker@annarbor.com.