Posted on
Thu, Dec 1, 2011 : 6:06 p.m.
Former Manchester village president 'loved his community,' daughter says
By Julie Baker
Editor's note: The names of survivors have been corrected.
The Little family has felt an outpouring of community support since word of former Manchester Village President David Little's death spread Wednesday, his daughter said.
"He cared so much about the community," said Amy Little Sussman. "I think we're feeling that now. It feels good."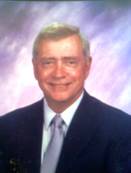 Courtesy of University Bank
David Little, 73, died Wednesday at the University of Michigan Hospital after suffering traumatic injuries in a
head-on crash with a jackknifed semi-truck
Wednesday morning on M-52 near Bethel Church Road in Sharon Township.
Sussman said her father's life was a classic tale of "local boy makes good." He did a lot in his lifetime, she said, working his way from a job in the chicken industry (with his father-in-law Luther Klager) to eventually land in banking. Little served on the University Bank Board of Directors since last year. He was a natural banker, Sussman said.
"He could sum somebody up very quickly," she said. "He knew who was going to pay back a loan. I don't think that happens often today. It's about knowing your local market."
Little was very community-oriented, his daughter said, serving on many boards. He also served as Manchester Village president from 1970-1978 and felt a deep love for and connection with the small town.
"My dad used to say, 'I like being a big frog in a small pond,' " Sussman said. "There's something about a small town you can't disregard."
He loved to talk and tell a story. Sussman said her father was funny — "the ultimate punster" — who was proud to be an Irish guy. He also treasured his time golfing, especially an annual retreat down South with his buddies.
Little was a "huge" supporter of Michigan State University, despite being a few credits shy of graduating from there and ultimately receiving his degree from Eastern Michigan University. Sussman said her family always joked that he was an MSU graduate — most of her family, including her mother — is, too.
Little is survived by his high school sweetheart and wife of 51 years, Janice (Klager) Little; daughter Amy Little Sussman, her husband Ken and their son Jay; and son Craig Little, his wife Jan, and children Emily, Ryan and Adam Little and Stephanie (Huehl).
The family is touched by the support and encouragement they've received since word of Little's crash, and subsequent death, spread through Manchester. "We're grateful," Sussman says.
Gatherings are planned from 2-4 p.m. Saturday and from 6-8 p.m. Sunday at Borek Jennings Funeral Home's Jenter Chapel at 302 E. Main St., Manchester. The funeral is at 11 a.m. Monday at Emanuel United Church of Christ, 324 W. Main St., Manchester.