Posted on
Tue, Jul 3, 2012 : 5:58 a.m.
Former Moe Sports Shop owner Bud VanDeWege dies at age 83
By Pete Cunningham
Ann Arbor lost an icon on Monday as Edwin Jay "Bud" VanDeWege died at the age of 83.
The longtime owner of Moe Sports Shop in downtown Ann Arbor, VanDeWege lost a long battle with congestive heart failure on Monday surrounded by family and friends.
VanDeWege will be cremated, but there was no visitation or memorial service planned as of Monday evening. Muehlig Funeral Chapel in Ann Arbor has an online dedication page in his honor.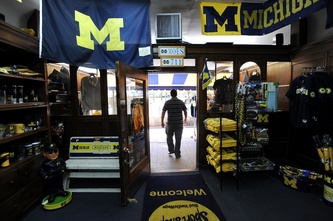 AnnArbor.com photo file
With VanDeWege's condition progressively worsening over the last two weeks, he was confined to his hospital bed, according to longtime friend and former University of Michigan basketball player
George Pomey
. Pomey said it was actually a perfect way to spend his final days, with visits from loved ones, many former athletes of Michigan-lore and longtime friends and acquaintances who came to pay their respects.
"He looked at me one day and said 'this is kinda neat, it's like going to your own funeral,'" Pomey said. "It's sad that he's gone, but that wasn't a sad situation. It was a great thing the way it finally ended."
Pomey said VanDeWege would light up with his many visitors, be it his family from the west coast or Michigan football greats like Rick Leach and Bill Dufek.
"He'd get a spurt of adrenaline every time someone would come in," Pomey said.
Moe Sports Shop, located at 711 North University Avenue, has been a fixture on the University of Michigan campus since opening in 1915. VanDeWege began working there in 1964 and bought the shop in 1971, making a career out of his retirement plan.
"He told me one time many years ago that when he retired he always wanted to own a sporting goods shop in a college town," longtime friend Clem Gill said. "The joke was he wanted it to be his retirement, and it ended up being his career."
There was never a question where to find VanDeWege. He ate breakfast every morning at the same seat in Frank's Restaurant on Maynard Street before work and read his newspaper with the regulars.
A running gag among the regulars at Frank's was to have a patron new to the restaurant sit in Bud's seat before he got there.
"Everytime he'd see someone there, he'd react with something different," said longtime friend Ed Shaffran.
Though Shaffran said VanDeWege was never rude about asking the newbie move from the spot, it went without saying that it was VanDeWege's spot.
Even after his son, former Michigan women's basketball coach Bud VanDeWege Jr., sold Moe's to Underground Printing in 2010, Bud Sr. would stop by the shop daily.
VanDeWege loved sports. He played on the Holland High School 1946 state championship basketball team and later for Hope College. Moe's kept him connected him to athletes and games he loved so much. He was a fixture at Michigan basketball and football games and for many years provided many athletics teams with apparel.
"He was always there, and with the tailgates, too," said Pomey. "It'll seem pretty hollow getting together to those things without him."
VanDeWege also loved to watch his grandchildren play sports.
Pomey said the many athletes that frequented the shop would often confide in VanDeWege as a fatherly figure, but he didn't discriminate with his kindness. In the back of Moe's hung a corkboard with Polaroid photos of him with All-Americans as well as regular students who just stopped in the shop with their parents on a visit.
"He was just a friendly guy," Pomey said. "I told Bud (Jr.) 'I never heard anything for a cross word said about your dad in all the years I knew him, and that's a rare thing, especially when you're a business owner.'"
Contact Pete Cunningham at petercunningham@annarbor.com or by phone at 734-623-2561. Follow him on Twitter @petcunningham.