Former Ann Arbor News publisher Dave Sharp: a strong leader committed to the community
Posted on Sat, Jul 21, 2012 : 9 a.m.
Friends and colleagues remembered former Ann Arbor News publisher David C. Sharp as a compassionate boss and committed supporter of the community in which he lived and worked.
Sharp died late Friday of metastatic pancreatic cancer, family members said. He was 65.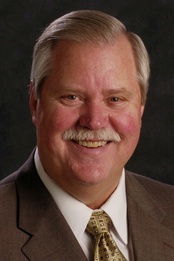 Sharp, publisher of The Ann Arbor News from 1999 to 2005, was a leader, not just at the newspaper, but in the community as well, those who knew him said.
"He was a very strong force in the community and very generous," said former County Administrator Robert Guenzel, who served with Sharp on the board of Washtenaw United Way. "He had a great sense of humor also. He was just fun to work with."
Sandra Rupp, who was hired as CEO of Washtenaw County United Way during Sharp's tenure as chairman of the board, said he knew how to be direct in dealing with issues but be understanding and compassionate at the same time.
"He had this ability to sit down with people and really listen to what they thought the issue was but quickly frame it and somehow get to what the solution was."
AnnArbor.com Executive Vice President Laurel Champion, who worked with Sharp before succeeding him as Ann Arbor News publisher, also praised his leadership skills.
"Dave Sharp was a strong, remarkable leader who had an extremely compassionate side that immediately put people at ease with him," she said. "It was an honor to work for him and he taught me a lot about business and success as my own career has grown. But Dave was more than just a boss, he was my mentor, partner and friend." Jan Bacungan, who was Sharp's administrative assistant during his years at The Ann Arbor News, remembered with fondness Sharp's sense of humor.
"He wanted his employees to have fun and he was fun," she said. "He loved to have everybody bring in their kids and he would befriend their kids in moments. … And he was just like Santa Claus."
She recalled one day when Sharp surprised employees by dressing up as Elvis.
"Employees loved it," she said. "He made them feel like he was one of them because he would do something as corny as coming in as Elvis."
Sharp oversaw the newspaper during a period of rapid change. During Sharp's tenure, The News opened a new $39 million printing plant in 2001 and renovated its historic Albert Kahn-designed building at Huron and Division streets in downtown. The new plant in Pittsfield Township allowed The News to land a valuable printing contract with The New York Times.
Sharp left Ann Arbor to become publisher of the Flint Journal in 2005 and retired from that newspaper in 2009 as the Journal began a monumental shift in focus from print to online news reporting and advertising, handing over the reins over to his son Matt Sharp, who is now MLive Media Group vice president of sales and marketing.
Before coming to Ann Arbor, Sharp served as publisher of The Avalanche-Journal in Lubbock, Texas, for nearly five years. All told, he worked nearly four decades as a newspaperman in Michigan, Texas and South Dakota.
"He was a man of high courage and had a lot of empathy for people," said Dan Gaydou, president of MLive Media Group and former publisher of The Journal's sister newspaper The Grand Rapids Press.
Born in Kansas, Sharp grew up in Wisconsin. He started his newspaper career in 1970 as an advertising sales executive in Madison, Wis. He held other advertising and operations positions prior to being named publisher in 1982 at The Rapid City Journal in South Dakota.
Sharp led newspapers through many technological changes, but upon his retirement in 2009, he said his memories were steeped in relationships, not technology.
"During my 39-year career, we moved from hot type to cold type, from letterpress printing to offset printing," he said. "I've built two printing plants and signed a national printing contract with The New York Times. (But) my most notable memory will be the wonderful people I have worked with in my career."
Sharp's community service includes terms on the boards of directors of the Flint Institute of Music, the Ann Arbor Area Chamber of Commerce, Washtenaw Development Council, Washtenaw Community College Foundation and St. Joseph Hospital. He is past chairman of the Genesee Regional Chamber of Commerce and the Washtenaw United Way and served as a trustee at Baker College.
Sharp also served on the board of directors of the Inland Press Association and as treasurer of the Michigan Press Association.
Albert Berriz, CEO of real estate company McKinley, called Sharp a "very classy guy" who cared deeply about the community and showed it through his work with community organizations like the Red Cross and United Way.
Berriz recalled the time about 10 years ago when he was leading a capital campaign to raise more than $7 million to build a new building for the Washtenaw County Chapter of the American Red Cross.
"He didn't know me from Adam, " Berriz said. "I walked into his office and said to him 'I need your help, … and I can't make this happen unless you're willing to publicize the campaign.' He listened … . And he said 'I'm on board.'"
Sharp and The News provided $100,000 worth of advertising for the campaign and helped make it a success, Berriz said. "We wouldn't have been able to accomplish what we did without him."
But it wasn't just the community Sharp cared about; it was employees as well, Bacungan said: "I know that many of the former News employees and retirees will long remember his warm handshake and embrace," she said. "I will never forget how when we first started running the newspaper on the new presses, Dave would be at the print site until wee hours in the night. He couldn't run a press, but he made certain that the folks who could knew that he was right in there with them working through tough start-up issues."
Gaydou said he recently had dinner with Dave Sharp and his wife, Caroline, shortly before he became ill.
"We didn't know at that time that anything was going on. He was the same Dave," Gaydou said. "He was enjoying his retirement. He and Caroline were having a great time. It's truly tragic and my heart just goes out to the family to lose him in such a tragic way. It's shocking to all of us and a reminder to the limited time that we might have.
"I think Dave would say to all of us: 'Enjoy every day. You have to live without regret.' And I think he did that."
Sharp is survived by his wife and five children. Funeral services are tentatively planned for July 27 at Fountain Springs Community Church in Rapid City, S.D.
Friends and associates can leave messages on a CaringBridge site established for Sharp.
MLive reporter Khalil AlHajal contributed to this report.
Contact Cindy Heflin at 734-623-2572 or cindyheflin@annarbor.com or follow her on Twitter.