Posted on
Sat, Mar 2, 2013 : 1:04 p.m.
Former US inspector general who lived in Ann Arbor to be memorialized at Arlington National Cemetery
By Lisa Carolin
A man who served the United States government will receive an internment and memorial service at Arlington National Cemetery sometime this spring. Sherman Maxwell Funk died at age 87 in Ann Arbor on Feb. 23.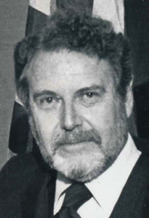 Photo courtesy of Funk family
Friends called him "brilliant, feisty, and fiercely independent," and he was also known for his kindness and sense of humor.
Funk served as inspector general for the U.S. State Department from 1987-1994. He was appointed under President Reagan to be the first independent Inspector General of the U.S. Department of Commerce in 1981, and also served under Presidents Bush and Clinton.
Funk, known as "Shim," died peacefully with his family beside him. He is survived by his wife of 35 years Sylvia Grunbaum Straka Funk. His first wife was Elaine Bayer Funk, who died in 1977.
Funk also is survived by the five children he and Sylvia had together: Kathi (Marc) Sholder, Ben Funk, Eric (Gianna Lete) Straka, Marc Straka, and Paul (Amy Janowicz) Straka, along with six grandchildren.
Sylvia Funk said, "Sherman was a true Renaissance man. He taught his children how to live with integrity and love of family, and his joie de vie affected the entire family."
"My dad was one of the smartest people I knew," said Katherine Sholder. "He knew a lot about so many things and spoke with equal respect with anyone-from a world leader to the person who picked up the trash."
Sherman Funk was born in 1925 in Brooklyn, N.Y. and grew up in Far Rockaway, N.Y. During WWII, he was a combat infantryman with the 42nd (Rainbow) Division, and his battalion received a Presidential Unit Citation for holding off a panzer division in Alsace. He was severely wounded in that battle and taken as a POW and lost the use of his left arm.
Funk went on to attend Harvard University and then did graduate work in American Government at Columbia University and the University of Arizona. He worked as a teacher, wrote a weekly, award-winning column for a Maryland newspaper, and began his government career in 1958 working for the United States Air Force at the Pentagon.
He served as inspector general for the U.S. Department of Commerce from 1981-1987 and as inspector general for the U.S. State Department from 1987-1994. Among his duties as state department inspector general was supervising inspections of all American diplomatic and consular posts worldwide.
Sylvia and Sherman Funk moved to Ann Arbor 12 years ago, and he spent the past 10 years of his life battling Alzheimer's disease.
Donations can be made to Arbor Hospice, 2366 Oak Valley Drive, Ann Arbor, MI 48103.
Lisa Carolin is a freelance reporter. Contact AnnArbor.com's news desk at news@annarbor.com.