Posted on
Fri, Sep 21, 2012 : 6:27 p.m.
Former U-M employee accused of taking bus arraigned on vehicle theft charge
By Cindy Heflin
A former University of Michigan employee accused of driving away in a U-M bus was arraigned Friday and released on a personal recognizance bond, a U-M spokeswoman said.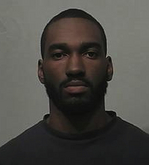 Antoine James
, 23, of Romulus was arraigned on a charge of unlawful driving away of an automobile, said University of Michigan police spokeswoman Diane Brown. He was released on a $10,000 personal recognizance bond, Brown said.
James is accused of taking a bus from the U-M bus yard early Friday morning and driving it on Interstate 94.
Brown said a U-M police officer stopped a man driving on South State Street at 3:45 a.m. Friday because he was speeding.
The driver told police he was a U-M bus driver and had just seen a U-M bus leaving the yard at a time when he knew no more buses were supposed to be on the road. He told police he was speeding because he was trying to follow the bus.
The police officer went in search of the bus and found it traveling east on I-94, Brown said. The officer followed the bus as it left the freeway at Huron Street in Ypsilanti, where James, a former U-M transportation employee, then surrendered to police.
James is scheduled for a preliminary hearing on Oct. 4.