Posted on
Mon, Jun 11, 2012 : 11:42 a.m.
Former U-M provost Teresa Sullivan abruptly resigns as University of Virginia president
By Kellie Woodhouse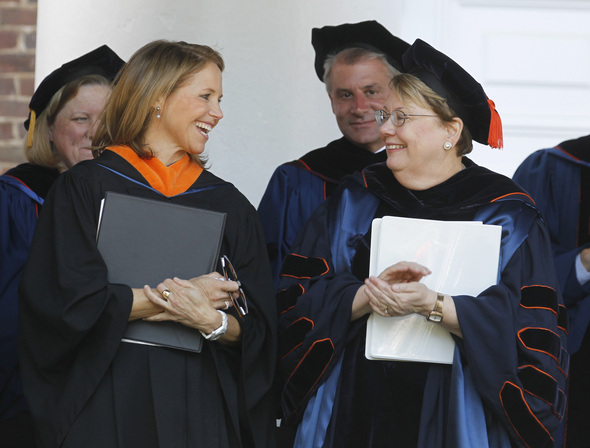 AP Photo
Former
University of Michigan
provost
Teresa Sullivan
abruptly resigned as president of the
University of Virginia
on Sunday.
Sullivan cited conflict with the university's governing board as the reason behind her departure, saying in a release "the board and I have a philosophical difference of opinion."
Sullivan served as U-M provost and vice president for academic affairs from 2006 to 2010.
U-M President Mary Sue Coleman spoke at her inauguration in 2011.
"Terry's depth of knowledge infuses her with a calmness that conveys both confidence and experience, particularly in the face of chaos and pressure. She does not fluster easily, if ever," Coleman said then. "The University of Virginia is a jewel, and this new president will protect it, make it shine, and increase its value. She is an exceptional leader, for an exceptional institution, at an exceptional time."
Sullivan has been president of UVa for just two years. Her resignation is effective Aug. 15, 2012.
UVa Board of Visitors Rector Helen Dragas offered the following remark regarding Sullivan's resignation at a June 10 meeting with administrators:
"We know this news is a great shock to the institution. We deeply appreciate all that Terry has given to the University over the last two years. We like and respect Terry, and she has done many things well. Her broad engagement with all parts of the University community was refreshing to students, faculty, and staff, parents, and alumni. Her increased presence in Washington and abroad was commendable. Her administration's work with you on the initiation of the internal budget model has been a significant step towards creating an important tool for change. Nevertheless, the Board feels strongly and overwhelmingly that we need bold and proactive leadership on tackling the difficult issues that we face. The pace of change in higher education and in health care has accelerated greatly in the last two years. We have calls internally for resolution of tough financial issues that require hard decisions on resource allocation. The compensation of our valued faculty and staff has continued to decline in real terms, and we acknowledge the tremendous task ahead of making star hires to fill the many spots that will be vacated over the next few years as our eminent faculty members retire in great numbers. These challenges are truly an existential threat to the greatness of UVA."
Kellie Woodhouse covers higher education for AnnArbor.com. Reach her at kelliewoodhouse@annarbor.com or 734-623-4602 and follow her on twitter.