Posted on
Sun, Dec 23, 2012 : 10:55 a.m.
Former U-M rowing team standout Bill Schnittman killed in murder-suicide in Oklahoma
By Sven Gustafson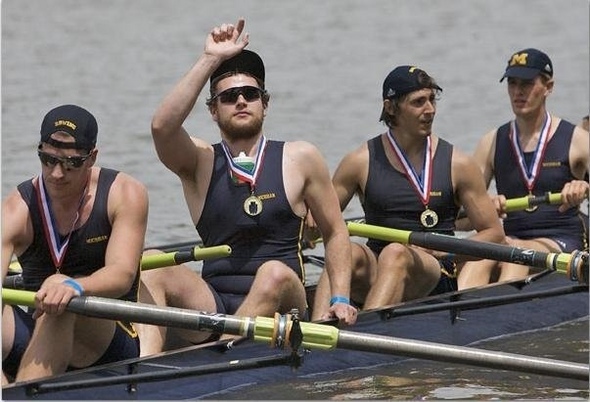 Photo from row2K.com
This story has been updated to add comments and details from U-M rowing team coach Gregg Hartsuff.
A former four-year oarsman for the University of Michigan rowing team who had aspirations to join the U.S. national team was killed in Oklahoma City Friday after a domestic quarrel spiraled into a murder-suicide.
Bill Schnittman, a member of the national champion U-M men's rowing teams of 2008, 2009 and 2010, died after being shot by the estranged husband of his girlfriend, according to published reports. He was 25.
The Bloomfield Hills native had moved to Oklahoma City after graduating in 2010 to train with the National High Performance Center for a berth on the men's national team and to one day compete in the Olympic Games.
"It's very difficult to adequately express our shock and sadness over the death of one of our own athletes," USRowing Chief Executive Officer Glenn Merry said in a statement posted to usrowing.com. "This young man had a life ahead of him and Olympic dreams in his future. Our community lost a unique teammate. He was well liked and he will be missed."
Police believe Schnittman was shot by Darrell Kurt Wilson, 36, his girlfriend's estranged husband.
According to reports, police arrived at the scene of a hostage situation at an Oklahoma City home around 3 a.m. Friday. There, they saw Wilson holding Schnittman's girlfriend hostage in a Jaguar but persuaded him to let her go. Wilson escaped in his car.
Police who searched the home found Schnittman, who had been shot multiple times and was later pronounced dead. The woman told officers she had been sexually assaulted by Wilson.
A high-speed pursuit of Wilson ended on Interstate 35, near the Oklahoma River, when the suspect died of a self-inflicted gunshot wound.
Both Schnittman and his girlfriend had filed for a protective orders against Wilson, according to reports. Schnittman claimed that Wilson had been talking and harassing him multiple times, including sending death threats. The protective order was denied.
The woman had filed for divorce from Wilson the week before.
U-M men's rowing team coach Gregg Hartsuff said Michigan Crew was Schnittman's passion during his time in college from 2006-2010.
"He was one of the personalities that people are drawn to," Hartsuff said Sunday. "He was kind of the ringleader of enthusiasm, if you will. Certainly a talented guy, he did end up rowing on varsity. Like any athlete, he had his ups and downs in his career. But like any athlete, he wanted to be better."
In an email to AnnArbor.com and U-M rowing members, Hartsuff said Scnittman "pulled the 4th best Freshman 2K ever his freshman year, and Bill was the 5-seat in one of the fastest varsity eights I have coached here —Â the 2009 Varsity eight that won the Dad Vail convincingly and ACRA in the most impressive fashion it has been done."
Schnittman also served as team officer for two years and team secretary during his junior and senior years, his former coach said. He served as novice boys coach for the Oklahoma City Riversport Chesapeake Junior Crew program this past spring and had worked at national team development camps during recent summers in Madison, Wis. and Philadelphia.
"He was a character, so people kind of always knew who Bill was," Hartsuff said. "There's going to be a fairly large contingent, now just from our team, but all over the U.S. who are mourning Bill's loss."
Schnittman is survived by his parents, Arthur and Virginia, and his identical twin brother, Bob, who also briefly rowed for U-M.
Below is coverage of the incident from Oklahoma City's NewsOn6:
NewsOn6.com - Tulsa, OK - News, Weather, Video and Sports - KOTV.com |