Posted on
Tue, Apr 20, 2010 : 4:37 p.m.
Former University of Michigan football player charged in attempted robbery, larcenies
By Lee Higgins
A former University of Michigan cornerback is accused of attempting to rob a cab driver Sunday and stealing money from two food deliverymen last month, Ann Arbor police said.
Boubacar Cissoko, 20, who was kicked off the team in October, was arraigned this afternoon at the Washtenaw County Jail on a charge of assault with intent to rob while armed and two counts of larceny from a person.
Ann Arbor police say a driver for Blue Cab picked up Cissoko at The 5th Quarter, a bar on South Fifth Avenue, and agreed to give him a ride to the 600 block of Packard Street early Sunday.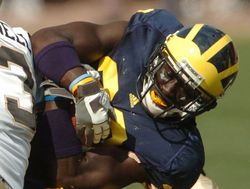 File photo
When the cab neared Packard and Mary streets about 12:20 a.m., Cissoko pointed a pellet gun at the driver and demanded money, Det. Sgt. Brian Jatczak said. The pellet gun looked like a real handgun, Jatczak said.
"The cab driver resisted and said he was gonna call the police, and the suspect got out of the cab and ran," Jatczak said.
University of Michigan police spotted Cissoko five minutes later in the 500 block of Thompson Street and arrested him. He was taken to Ann Arbor police headquarters and was questioned by detectives, police said.
Police say they were able to link Cissoko to two thefts March 13 from food deliverymen in less than a 90-minute span. Investigators say Cissoko snatched money from the hand of a deliveryman for Mr. Spot's about 12:11 a.m. in the 600 block of Mary Court. The deliveryman was dropping off an order of Philly cheese steaks. Cissoko also is accused of grabbing money from the hand of a deliveryman for Cottage Inn about 1:37 a.m. in the 900 block of Greenwood Avenue, which is in the same area. That deliveryman was dropping off pizza.
Police say Cissoko would have food delivered, then ask for change for a large bill, which required the deliverymen to go back to their businesses to get it. When they returned, Cissoko would reach into his pocket or otherwise pretend he was going to pay, then snatch cash from the deliverymen and run away, police said.
Cissoko was dismissed from the team after violating unspecified team rules twice in 2009.
This is the third time he's been arrested in less than a year.
Cissoko was arrested by Ypsilanti police in January after officers searched him and say they found an unspecified amount of marijuana. He confessed he intended to sell the marijuana, a police incident log said. The status of that case is unclear. Ypsilanti police Sgt. Kevin Dorsey did not immediately have details this afternoon.
Cissoko also was arrested last June on a disorderly conduct charge stemming from a traffic incident in Detroit. That charge was later dismissed.
Cissoko started the first four games as a sophomore during the 2009 season, then missed two games because of his first suspension. He saw limited action against Penn State before being kicked off the team.
Cissoko said during his arraignment that he is living in Ypsilanti and is unemployed. A public defender was appointed to represent him. He is being held on $70,000 bond and is scheduled to return to court April 28.
Lee Higgins covers crime and courts for AnnArbor.com. Reach him by phone at (734) 623-2527 and email at leehiggins@annarbor.com.