Posted on
Mon, Jan 11, 2010 : 1:15 p.m.
Former University of Michigan President Robben Fleming dead at 93
By Juliana Keeping
The University of Michigan president who oversaw the campus in the era of sit-ins, lock-ins and demonstrations died today at 93.
Robben Wright Fleming, who served in U-M's top position from 1968 to 1978, died this morning at The Care and Rehabilitation Center at Glacier Hills in Ann Arbor.
Fleming also served as interim president in 1988, between the administrations of Harold Shapiro and James J. Duderstadt.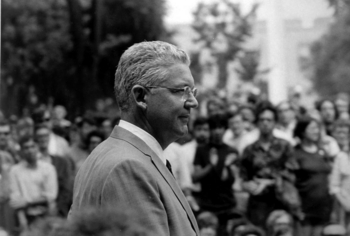 Photo courtesy of University of Michigan
"Robben Fleming will be remembered in the same breath as Henry Tappan and James Angell as one of the truly great presidents of the University of Michigan," U-M President Mary Sue Coleman said in a written statement. "In an era of friction and fighting, he provided a voice of reason and respect. He served the University of Michigan with distinguished leadership, skill and integrity and a grace that endeared him to a generation of students and faculty."
Before coming to the U-M, Fleming made his mark in labor relations and conflict management.
The lawyer from Paw Paw, Ill., worked for the U.S. Securities and Exchange Commission before serving as a mediator for the War Labor Board.
He joined the Army during World War II, serving in North Africa and Europe and reaching the rank of captain. Following the war, a series of academic posts in labor relations management nourished his growing reputation as an authority in that same arena.
A position as a professor of law at the University of Illinois and series of books along with articles on the subject of labor law led to his appointment as a chancellor at the University of Wisconsin. While there, leaders were eager to capitalize on Fleming's unique blend of mediation skills as student protests took hold in 1964.
Students at Wisconsin's main campus in Madison took over a building in 1967. Fleming called police to end the takeover, then wrote a personal check of almost $1,500 to bail the students out of jail. Just months later, he was named to his position at U-M.
At U-M in 1970, he faced a 12-day Black Action Movement strike, in which Students for a Democratic Society demanded higher numbers of black students and faculty, threatening violence to have their demands met. A promise of more financial aid that would help to raise the level of black enrollment to 10 percent of the student body resolved that conflict, one of many student-administration stand-offs during his term.
His once told a reporter about his approach to conflict management: "The fact that I have had a long experience in the labor field means that I don't get excited in the way some people do about either controversy or challenges. I don't take flights of rhetoric quite so seriously as some people do. And I don't view showdowns as the end of the world."
U-M professor Herbert W. Hildebrandt served under Fleming as vice president and university secretary. The professor emeritus of business administration and communication studies today remembered Fleming as steady and calm when Fleming met for hours of negotiations with angry student leaders over one Easter weekend to resolve the 12-day dispute.
"Under extreme oral provocation," Hildebrandt said in a written statement, "he consistently responded with: 'I hear you; please tell me your position.'"
The university's central administration building is named in honor of Fleming and his wife, Sally, who died in 2005. They are survived by three children. Funeral arrangements are pending.
Do you have memories of the University of Michigan and Fleming between 1968 and 1978? Share your thoughts in the comments section below.
Juliana Keeping covers higher education for AnnArbor.com. Reach her at julianakeeping@annarbor.com or 734-623-2528. Follow Juliana Keeping on Twitter