Posted on
Thu, Dec 10, 2009 : 4:12 p.m.
Founders of Hand in Hand Center for Jewish-Arab Education speak in Ann Arbor about their innovative work
By Art Aisner
Lee Gordon and Amin Khalaf don't have the answers to bring about peace in the Middle East. But they hope the work they're doing with Jewish and Arab children alike in Israel will build the kind the leaders who will.
For 11 years, the unlikely duo has operated the revolutionary Hand in Hand Center for Jewish-Arab Education in Israel. The initiative integrates Jewish and Arab Israelis inside the classroom and builds bridges between families and communities that would otherwise be segregated.

Art Aisner | For AnnArbor.com
Though not naïve enough to think their program alone can solve generations of conflict in the war-torn region, they say they've seen striking growth in enrollment and in general support for their philosophy: that creating a space where the two peoples study side-by-side allows the common threads of humanity and respect for each other's cultures to outweigh any differences.
"We aim to be a catalyst in Israeli society. To show and prove to others, and be models to others, of Jewish-Arab coexistence and partnership," Gordon said at a gathering of more than a dozen Ann Arbor-area residents and activists Wednesday night.
The event at the Beth Israel Congregation was sponsored by the Jewish Federation of Greater Ann Arbor, which has contributed funds toward Hand in Hand schools for the past five years.
"It's very important for our community to support programs that bring Jews and Israeli Arabs together," said event organizer Eileen Freed, director of Israel/Overseas and Community Relations for the Federation.
Gordon, a 53-year-old Portland, Ore., native who lived in Israel for 20 years, and Amin, who grew up in an Arab village in Israel, met as educators at Hebrew University in 1997. They opened their first school with barely 50 kindergarteners and first-graders a year later.
With the help of Israel's Ministry of Education and private donors from America, Europe, and South America, four schools throughout the country now serve more than 900 children, including high school students.
Classes are comprised evenly of Jewish and Arab students and are taught by both Arab and Jewish instructors. They alternate lessons and strictly speak Hebrew or Arabic without translations, forcing students to master both languages, Khalaf said.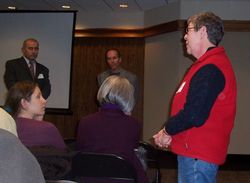 Art Aisner | For AnnArbor.com
Long-time Ann Arbor resident Susan Greenberg has two grandchildren who attend the Hand In Hand School in Jerusalem. She said she visited them just last week and was amazed by the cultural exchange and opportunities for genuine understanding their education fosters.
"The cultural connection is really unbelievable. You definitely see it in how they carry on." Greenberg said. "There's also a lot of interaction between Arabic families and Jewish families."
She also noted that during the war in Gaza last year, students collected blankets, toys and basic hygiene items for children in the southern city of Sderot, which was struck daily by Hamas rockets. They also sent them to Gaza for needy residents who couldn't flee the violence.
That cultural exchange between adults and siblings is just as important as educating the children to improve the livelihood of both peoples, said Khalaf, 44.
Though a successful product of the segregated school system prevalent in Israel, Khalaf noted that despite his close proximity to Israeli's, he never even met a Jewish peer until college. He wants better for his three children.
"The future is in learning together," he said. "It's more than school, it's learning to deal with conflict and differences by also accepting one another."
Ann Arbor resident Melissa Eljamal said the presentation left her optimistic about what often seems to be a hopeless quest for peace.
"It gives me hope, and you have put hope in something because otherwise you're miserable when you think about the situation there," she said.
More information about Hand In Hand is available on their Web site at www.handinhandk12.org.