Posted on
Wed, Sep 4, 2013 : 5:57 a.m.
Multiple Ann Arbor students receive 'top scores' on ACT
By Chelsea Hoedl
Nine students from the Ann Arbor Public School District's class of 2013 earned a 36 -- the highest possible score -- on the ACT college admissions exam.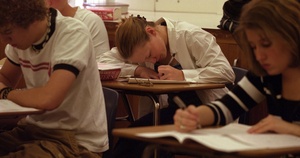 In addition to the nine Ann Arbor students from the class of 2013, six from the class of 2014 and two from the class of 2015 also received a top score on the exam, which is made up of four multiple-choice tests: English, mathematics, reading and science, as well as an optional writing test. One student each from Saline High School, the Early College Alliance in Ypsilanti and Father Gabriel High School in Ann Arbor Township earned a top score as well.
Of the more than 1.8 million students in the United States who took the exam this year, only 1,162 earned a composite score of 36. On average, less than one-tenth of one percent of all test takers earn the top score, according to ACT Public Relations Representative Katie Wacker.
While a top score is a rare and remarkable achievement, it is not uncommon for Ann Arbor Public Schools to have multiple students receive a 36 in one year, Ann Arbor Public Schools Spokeswoman Liz Nowland-Margolis said.
"We're very proud of those students and their success. We're always proud of our students, although this is actually a little bit of a down year for us," Margolis said. "We're used to seeing multiple students receive a perfect score."
Huron High School Principal Arthur Williams said the number of students receiving top scores are similar to past years.
"Typically we have between 4 and 5 students at Huron score a 36 each year," Williams said. "We even had 11 students receive a top score in 2011. I would say that's atypical for most schools. It's not normal for schools to have any students receive a top score, actually."
Eighty-five students at Huron High School scored in the 95th percentile, which means they received a score of 30 or higher, Williams said.
"For the Michigan graduating class of 2013, 81 students scored a top score of 36," Wacker said. "A composite score of 36 is a remarkable achievement. Even one student scoring a 36 at any given school is something for that student, the student's parents and the school to be proud of."
Williams said the success of students is a group effort
"It has a lot to do with this community," Williams said of the student's success. "This is a community where there is excellence not only in the educational environment, but also in the homes of the students."
The curriculum also lends a hand to the students' test taking abilities, Williams said.
"We have numerous advanced placement courses available and those rigorous classes help to prepare students," Williams said. "It's a wonderful place for students to come to each day, to work in and do well in."
Chelsea Hoedl is an intern reporter for AnnArbor.com. She can be reached at choedl@mlive.com.