Posted on
Mon, Jun 17, 2013 : 10:40 a.m.
4 falcon chicks hatched atop University of Michigan hospital named Maize, Blue, Howard and Woodson
By Kellie Woodhouse
Football is king at the University of Michigan.
Proof?
The Ann Arbor school has named four peregrine falcon chicks that recently hatched in a nesting box atop the University Hospital. The names include: Maize; Blue; Howard, after famous Wolverine wide receiver.
Woodson and Howard are the latest two Heisman Trophy winners at U-M. Desmond Howard; and Woodson, after the former U-M player Charles Woodson.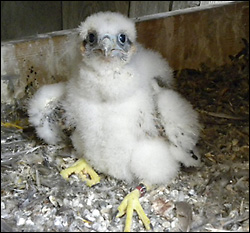 Courtesy photo by Barb Baldinger
It's the second year in a row falcon chicks hatched at U-M have been given football-related names.
The chicks hatched around April 29. This is the third straight year a pair of peregrine falcons has successfully nested on the roof of University Hospital.
To name the birds, U-M launched a contest on its Facebook page. Ann, Angell and Mary Sue were all contenders for the names of the two female birds, but Maize and Blue ended up winning. The names Brady and Denard 'Shoelace' Robinson were runners up for the two male falcons.
It's been a bit of a bumpy ride for the birds. Late last week, three of the young falcons attempted to fly and were unable to get back up to the nest. They have been taken to a rehabilitator, who will work with the chicks to strengthen their flight muscles before being released back to the nest site.
The chicks join a growing family of peregrine falcons hatched in Ann Arbor.
Last year the four chicks that hatched atop the hospital were named Bo, Fritz, Lloyd and Yost, the names referencing former head football coaches Bo Schembechler, Herbert "Fritz" Crisler, Lloyd Carr and Fielding Yost.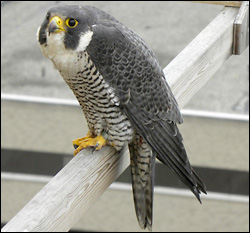 Courtesy photo by Barb Baldinger
Peregrine falcons are endangered in Michigan. U-M's campus has been home to two grown peregrines since 2006. In spring 2010 the falcons successfully hatched a trio of chicks. Another nesting box has been installed on North Quad.
In urban areas, Falcons tend to nest on tall buildings or bridges because of their similarity to high cliffs and ledges. When officials realized the pair wasn't successfully nesting on U-M's 192-foot tall Burton Memorial Tower, their nesting place of choice, the Michigan Department of Natural Resources helped set up a nesting box atop University Hospital.
Peregrine falcons often use the same nest site for many years, so it's possible that U-M's campus could be the birth spot for more chicks in future years.
The chicks are banded so they can be tracked by the Department of Natural Resources.
Kellie Woodhouse covers higher education for AnnArbor.com. Reach her at kelliewoodhouse@annarbor.com or 734-623-4602 and follow her on twitter.