Posted on
Mon, Feb 8, 2010 : 5:49 a.m.
4 tips for nailing the college interview from a Yale alumnus
By Juliana Keeping
It's high season for college admissions.
And Ann Arbor-area high school seniors with an eye on the Ivy League could find themselves meeting over coffee for an admissions interview.
Yale has a network of volunteer alumni in Washtenaw County and all over the country who speak to candidates interested in attending the school but who can't make it to New Haven, Conn., for the college interview.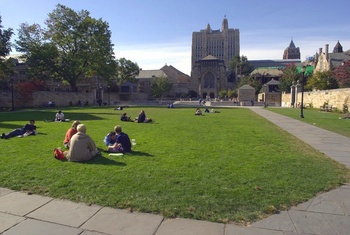 Associated Press | File photo
The alumni are not an official part of Yale recruiting or admissions. Those who find themselves in a local interview have already been recruited by Yale or have applied themselves. The admissions decisions are Yale's alone. 
But the alumni do play a role by interviewing and chatting with the applicants, taking notes and then sending them along to the admissions committee.
"Every student who wants one can have an interview; they just have to check the box on the application," said Ronald Shepps, a Saline resident and Yale graduate who works as a management psychologist and business coach. He interviews four or five Yale hopefuls per year, he said.
With college admissions in full swing, a Yale spokeswoman said admissions office was too slammed for even a brief interview about the program last week. She added that having a network of volunteer alumni assist with the college interview process near students' hometowns is common practice across the Ivy League.
Shepps offered a few tips for college hopefuls who find themselves in front of an alumnus - tips that just might translate well to any college interview:
1. Be yourself
"A very important match is occurring," he said. "You're going to invest the next four years of your life. What can happen if you fake it, is that you may be able to fake it successfully, but you'll end up in a place that's not as good for you as someplace else, so you're not helping yourself."
2. Relax
"This is not the sort of interview where someone's looking at you under a microscope," he said. "We're on the students side. Talk freely."
3. Prepare to talk about yourself
Shepps has found most students aren't prepared or well-rehearsed to do so.
"Rehearse that speech to the point where it flows smoothly and you always remember important points to say," he said. "Get in front of a mirror, friends or parents, and be sure to go over it again and again, because normally you'll be a little nervous."
4. Think about what you bring to the university besides academics and being a team captain. Hint: Even little things go far.
"Think along the lines of: How is it beneficial to both you and the university to get together?" Shepps said. "They're interested in more than academic credentials. What else do you bring? Do you dance, or volunteer to teach ESL in the community? What have you done that's interesting? Have you traveled to places that have given you a different or broader perspective. Small things go a long way."
Juliana Keeping covers higher education for AnnArbor.com. Reach her at julianakeeping@annarbor.com or 734-623-2528. Follow Juliana Keeping on Twitter