Posted on
Sat, Aug 3, 2013 : 5:30 p.m.
Fourth Avenue's reopening good news to area businesses
By Lisa Carolin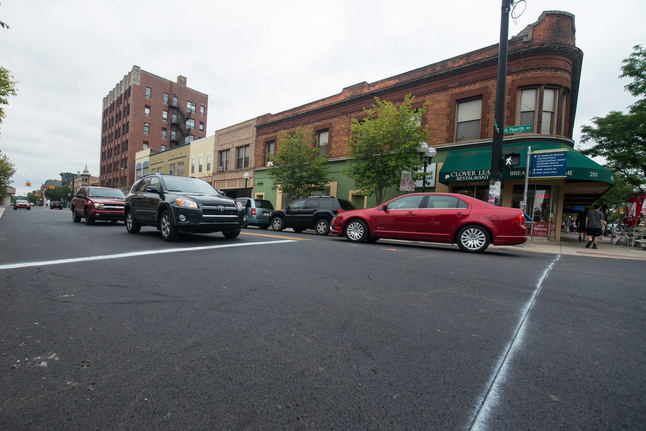 Courtney Sacco | AnnArbor.com
After being closed for more than two months for a water main replacement project, Fourth Avenue in downtown Ann Arbor reopened Friday to the delight of business that suffered from reduced foot traffic and sales during the construction.
At Literati, a book store on East Washington Street near the corner of Fourth Avenue, employee Deb Leonard said Saturday she can already see the difference.
"It's great for us because the construction affected our business very much," said Leonard. "We're so glad that people can actually drive here now. Saturdays are usually a good day for us, but the increase in business today is extraordinary."
At Shine, a boutique gift shop that opened at 211 S. Fourth Avenue in March, employees are also optimistic about business improving.
"We opened six weeks before the construction started," said Kelly Hadin, manager of Shine. "It was tough because people didn't even know we were there. I'm looking forward to having people find us."
"The construction meant there weren't as many people walking down the sidewalk," said store manager Katie Miszak. "People can park in front of us now, and there's a lot more foot traffic."
The sidewalks were open to pedestrians during the project, but the construction still kept customers away, businesses in the area said.
Fourth Avenue between East Huron and Liberty streets has been closed since mid-May. Traffic was also restricted on Washington and Liberty streets during part of the project.
The $742,000 construction project included replacing the water main with a new 12-inch water main, installing a new stormwater management system, and replacing curbs, gutters and some sidewalks.
Although Fourth Avenue opened for the Ann Arbor Art Fair from July 17-20, it closed again following the fair for the placement of the final layer of asphalt and to place pavement markings as well as to complete the restoration of brick pavers.
Lisa Carolin is a freelance writer for AnnArbor.com. Contact the news desk at news@annarbor.com or 734-623-2572.