Posted on
Sat, May 28, 2011 : 5:52 a.m.
Fraternal Order of Eagles member says he was suspended for replacing torn flag, but group says otherwise
By Tom Perkins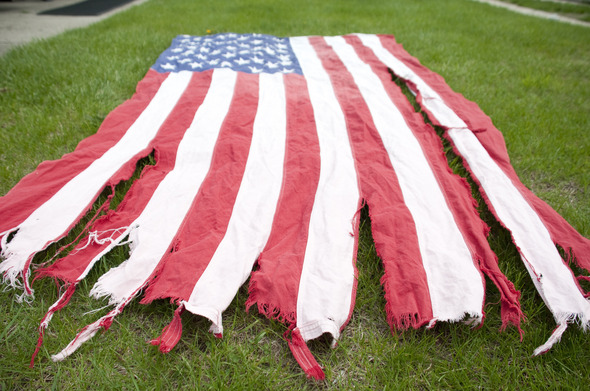 Tom Perkins | For AnnArbor.com
When Richard Stephenson saw a tattered American flag hanging above the Ypsilanti Township Fraternal Order of Eagles on April 28, he felt it disgraced the flag and his country.
Stephenson, a 30-year member of the Holmes Road FOE #2250, said he had just returned home that day from spending the winter in Arizona. He said he began asking other members about the flag, and learned it had been a poor state all winter.
The roughly 4-by-6-foot flag was torn in multiple spots along the stripes and was beginning to fray.
"It was a crying shame," Stephenson said. "I'd rather see no flag up there at all than this flag."
After asking the FOE's trustees and employees to replace it over several days without any action, Stephenson said, he bought a new flag, took the old flag down and raised the new one.
A day later, on May 1, his membership was suspended for 30 days for "behavior unbecoming of a member."
Stephenson said he was told by an FOE #2250 trustee that he had disobeyed a direct order not to take the flag down.
But FOE #2250 Secretary Henry Tincher has a different version of events.
Tincher said the suspension wasn't because Stephenson took down the flag, but because of an issue with Stephenson's behavior on April 27. He said a storm on Thursday night, April 28, shredded the flag, and the FOE bought a new flag when Tincher returned to work the following Monday.
Tincher said he couldn't divulge what Stephenson had done because the information is private and there "could be a trial."
"He's making a big deal out of nothing," Tincher said.
Stephenson said he didn't arrive back in Ypsilanti Township until April 28 and there was no prior incident. Even if the flag was really torn in the storm on April 28, Stephenson said, the club should have replaced it instead of letting it hang tattered on the pole.
He said he asked the employees and trustees that night for the keys to unlock the lock that secures the flag to the pole, but they said they didn't have them at the club. The keys, Tincher said, weren't in the club because a veteran who owned the torn flag was holding onto them.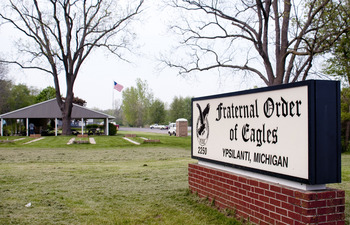 Tom Perkins | For AnnArbor.com
Stephenson said he returned on Friday and inquired about the flag again, but was told the trustees would buy a new one. Upon returning Saturday and being told again that the trustees would take care of the situation, Stephenson said he went and bought the new flag.
He returned Saturday evening, he said, pulled the rope out of the lock and raised the new flag.
"I didn't harm anything or anyone. I just don't think it's right that they can do that and disgrace our American flag," he said. "They didn't take care of it, so I took care of it."
The flag Stephenson put up has been replaced with a new, larger flag.
Tom Perkins is a freelance reporter for AnnArbor.com. Reach the news desk at news@annarbor.com or 734-623-2530.