With video:

Fraternity plays waiting game as historic Hill Street house nears completion

Posted on Thu, Aug 11, 2011 : 5:52 a.m.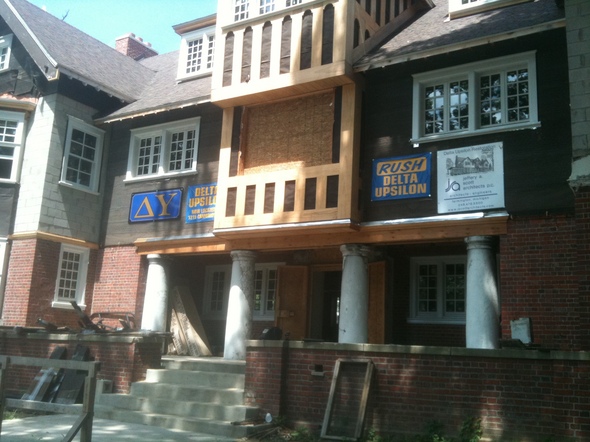 Ben Freed for AnnArbor.com

The members of the University of Michigan chapter of the Delta Upsilon Fraternity have been displaced since a major fire destroyed most of their house on Hill Street in May 2008. They were supposed to be able to move back into the house in June 2009 and are now hoping that the October date given to them is the real deal.

"Every year the house has been 'near completion,'" said Gregory Seraydarian, the fraternity's president. "We've literally told the last three pledge classes, 'you'll be the first ones living in this house.'"

A major part of the problem was that the house that burned down was no ordinary fraternity house. According to Seraydarian, the house, built in 1903, is a national historic landmark.

"It was the first house ever built solely for fraternity residential use," he said. "It was the first true fraternity house in the country."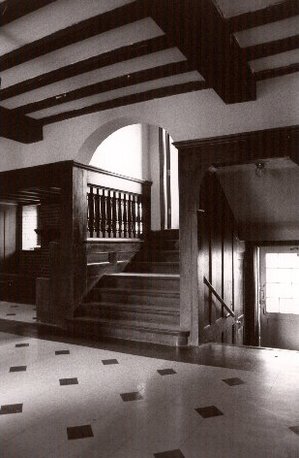 Photo Courtesy Marsha Butkovich
The house, designed by architect
Albert Kahn
, is listed in both the state and national registries of historic places. In the
state registry it is listed
as "the oldest residential fraternity/sorority house built at the University of Michigan still occupied by the organization which constructed it."
Seraydarian said that means both the interior and exterior must be restored to their original states.
Despite some money coming in from the city of Ann Arbor and from the national historic registry, architect Jeffery Scott said the insurance company covering the house does not want to pay for those full renovations.
"They just want us to put in a modern residential building," said Scott, a Delta Upsilon alumnus. "They don't want to fill the claim based on the replacement coverage of a historical home. And that's what's caused about 80 percent of the frustration with this renovation."
Seraydarian said that since the fire, the fraternity has signed temporary leases on smaller residential houses in neighborhoods near campus. He feels that not having a central house has affected every aspect of the fraternity.
Ben Freed for AnnArbor.com
"We've been split into at least two houses ever year that we've been out," he said. "So it's been difficult to have social functions or even to just hang out as brothers. Our rush numbers have stayed somewhat steady, but we would definitely be getting more guys if we had a house to show them."
Scott said even with the delays from the insurance company, the house was scheduled for completion before the fall 2011 semester. But routine construction delays moved the completion estimate to October.
"The kids should really be able to move back into this house," he said. "They weren't there when it burned down, no one was in the house, it was during the summer. They've waited a long time for it to be done."
Scott took me on a tour of the house while it's still under construction, you can follow along: