Posted on
Wed, Apr 18, 2012 : 8:39 a.m.
Free classes? University of Michigan to offer seven online courses at no charge
By Kellie Woodhouse
In February University of Michigan offered a Model Thinking class online.
The class, taught by a political science and economics professor, has more than 50,000 students.
Yup, that's right. 50,000.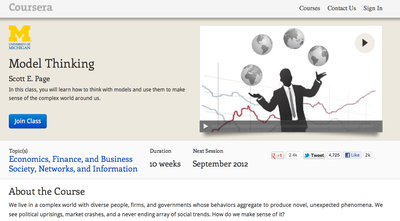 There are only about 42,000 students at U-M, but the school made the class available to anyone interested in the topic using a new Web-based platform called Coursera. Coursera allows students to learn using a mix of videos, discussion and quizzes and was launched this fall by two Stanford University students and is now being used by U-M, Princeton University, University of Pennsylvania and Stanford. Massachusetts Institute of Technology offers a similar online platform through its Opencourseware program. Relatively few schools participate in such free course sharing programs.
U-M announced Wednesday that it will expand from one class on Coursera to seven classes in the coming months. That's expected to generate a lot of buzz for the university. The Model Thinking course has already logged 1.2 million video views on Coursera.
For U-M, adapting to the platform gives faculty a unique way to communicate with alumni and prospective students.
"This is a great way for alumni or prospective Michigan students to experience a little bit of what a U-M education is like," Scott Page, the professor teaching Model Thinking, said in a release.
Added Martha Pollack, vice provost for academic and budgetary affairs: "This is one more way for us to connect with prospective students and alumni."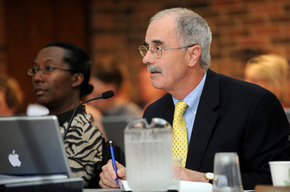 U-M Provost Phil Hanlon said the school is still exploring the possibilities available through Coursera, which allows participating universities to collaborate.
"While our faculty members have much to offer through an online approach, as an institution we also have much to learn about how to make the best use of this new teaching tool," he said.
Interested learners can still participate in Page's 10-week Model Thinking course.
Upcoming U-M courses offered on Coursera range from 'Fantasy and Science Fiction: The Human Mind, Our Modern World' to 'Introduction to Finance' to 'Securing Digital Democracy.'
Kellie Woodhouse covers higher education for AnnArbor.com. Reach her at kelliewoodhouse@annarbor.com or 734-623-4602 and follow her on twitter.